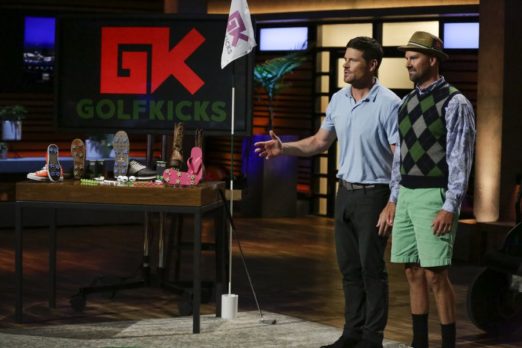 Tyler Stuart and John Krosky want a Shark's help with GolfKicks, their golf spikes that attach to any shoe or sneaker, in Shark Tank episode 1103. The two men, along with a third partner named Matt Mockus, are golfers who range in talent "from decent to dangerous." They wanted to be able to wear whatever footwear they wanted on the golf course, but you need those spikes on the shoes. So they invented them.
GolfKicks are basically screw in cleats for any shoe – provided that shoe has at least 1/3 inch rubber soles. Simply use a 5/32 drill bit to drill a 1/4 Inch deep hole on the flat part of the sneaker, then screw in your Golf Kicks cleat. Make sure you screw them in straight or they won't hold!
They got their business started with a successful Kickstarter campaign that raised $15,147 in early 2019 which followed an IndieGoGo campaign that raised $1,610 in the summer of 2018. Now, they have an office in Denver where they sell a "traction kit" for $29. Each kit comes with 20 cleats, a sharpie (for marking pilot holes), a Philips screwdriver for screwing the cleats and a 5/32 drill bit. They're still a very young business, so they likely want a Shark to both help them grow and mentor them along the way.
Company Information
Video

Posts about GolfKicks on Shark Tank Blog
Golf Kicks Turn Any Shoe Into a Golf Shoe
GolfKicks Shark Tank Recap
Tyler and John enter seeking $300,000 for 8% of their business. They explain the product and hand out samples. The Sharks like the numbers: they did $120,000 in sales in the past three months and expect to do over $1 million for the year. They want a Shark's help growing online sales on Amazon and in golf pro shops.
Lori likes golf and offers a loan of $300,000 for 8% interest plus a $2.00 per unit royalty until she makes $300,000 back AND she wants 5% of the business. Mark likes the product and thinks the youth sports market would be even bigger than the current business. He offers $300,000 for 13% and they accept.
GolfKicks Shark Tank Update
The Shark Tank Blog constantly provides updates and follow-ups about entrepreneurs who have appeared on the Shark Tank TV show. After the show originally aired they sold out of inventory. The deal with Mark never closed. They did raise other funds to hep their growth; the company got 2 seed round investments totaling $550,000 in 2018 and 2020 respectively. In September, 2021, they raised $131,363 on the crowdfunding site Republic. The company is up and running and now successfully selling on Amazon. As of June, 2022, they are doing $4 million in annual revenue. In August, 2022, there is a rumor going around that the company may be acquired.