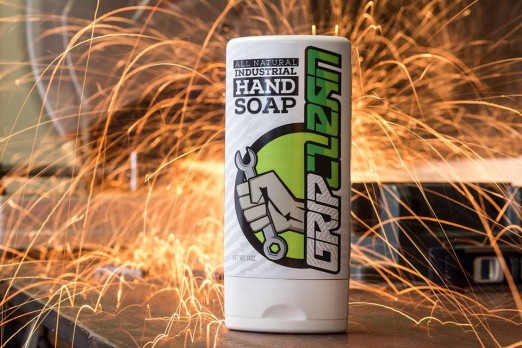 X Games superstar and MotoCross pro Bryce Hudson pitches GripClean, his all natural, industrial strength hand soap, to the Sharks in episode 709. Hudson is well-known for his acrobatic stunts on motorcycles, but he's less well-known for his entrepreneurship. He started his company with $10,000 he raised on Kickstarter.
Bryce wanted an all natural product that could clean the grease from his hands after working on his bikes. When he couldn't find one, he invented it. Grip Clean is a vegetable based, industrial strength hand soap that uses dirt as its active grease removing ingredient. Bryce used to rub his greasy hands in the dirt before cleaning them and he discovered dirt is the best natural way to remove grease and oil from the skin. Each bottle of GripClean has a sizable amount of "the best" dirt on earth.
Bryce still rides, but the physical toll of extreme motocross riding is making him think about jump starting his company rather than jumping motorcycles in competitions. Will a Shark clean up with Grip Clean?
GripClean Shark Tank Recap
The segment opens with a montage of Bryce on his motorcycle doing jumps and tricks. He explains how he's won a gold and two silver medals at the X-Games. He explains he's currently making GripClean in his garage, but he wants to make the company bigger so he can prepare for the day when he stops riding motorcycles.
Bryce rides into the Tank on his bike, popping a wheelie. He's seeking $85K for 20% of the business. He explains he's always been around dirt and grime and, over the years, he's found it takes dirt to fight dirt. Dirt is the best substance on earth at absorbing chemicals and toxins. GripClean is a perfect product for mechanics, construction workers, farmers, and anyone who gets their hands dirty.
He tells the Sharks he's the real deal and he's trying to start a company due to the injuries he's sustained riding. Grip Clean is different than other industrial strength hand cleaners on the market because it's all-natural. It's a coconut and olive oil based soap with dirt. Robert tries it and likes that it's not "eating my hands up."
Bryce explains he's a pre-revenue company. He has product in 5 motorcycle shops and a fair amount of interest. His problem is it costs 5 buck to make and he wholesales for 6 bucks. He needs to order 20,000 units to get his cost under a buck.
Robert has concerns. He said consumers didn't care enough about Grease Monkey Wipes and sales have been lackluster. Bryce says he wants to target the motorcycle world because he has credibility. What's killing him is he's making GripClean in 5 gallon batches.
Robert's out because of his Grease Monkey Wipes experience. Mark Cuban thinks it's too much work; he's out. Daymond likes the idea, but if he needs 20,000 units for 1 dollar each, he only needs $20K to start; he's out. Mr. Wonderful wants to know why he can't go to a co-packer and Bryce says he wants the Sharks' money for 55 gallon drums and industrial mixers. Mr. Wonderful says there's no meat on the bones; he's out too.
Lori asks why co-packers haven't worked worked. Bryce says co-packers don't want dirt in their production lines. Lori believes GripClean fits into her family of products. She knows the need and thinks it's great idea. Lori says she'll take a flyer at $85K for 35% of the business
Bryce says DEAL!
RRESULT: DEAL with Lori for $85K for 35% of the business.
GripClean Shark Tank Update
The Shark Tank Blog constantly provides updates and follow-ups about entrepreneurs who have appeared on the Shark Tank TV show. The deal with Lori never closed, but Bryce made distribution deals with Cycle Gear, Advanced Auto Parts and CarQuest. He still sells on his website and on Amazon. As of April, 2023, he has annual revenue of $3 million.
Posts About GripClean on Shark Tank Blog
All Natural Industrial Hand Soap
GripClean Company Information
Video