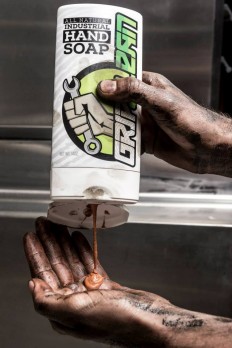 Grip Clean inventor Bryce Hudson is best known for his X Games appearances (he won a gold medal in the Foz do Iguaçu X Games in 2013) and as the guy who eats KFC while doing a somersault in a popular KFC commercial. He's also a guy who works on his own bikes, which means his hands get really dirty – a lot. Dirty hands need to get washed, and Bryce often found himself dipping his hands into the dirt to get grease off his hands. That's how he "discovered" dirt is an excellent, natural de-greaser.
Bryce doesn't plan on doing motorcycle stunts for the rest of his life. He's already broken his tibia twice and he says the wear and tear of extreme motocross is taking a toll on his body. He probably won't stop riding or working on bikes though, so grip clean will come in handy. It will come in handy for the nearly one million auto mechanics and the millions of backyard mechanics in the USA too.
Washing your hands comes with the territory when you work on any kind of engine. GripClean wants to be the go-to product. It's all natural, so there are no nasty chemicals to ruin your skin. And Grip Clean still uses dirt in its formula. According to Hudson, the dirt that goes into Grip Clean is "the best stuff nature has to offer." When peddling organic soap, there's nothing more organic than dirt!
My Take on Grip Clean
When I was 23, I took the engine of my Toyota pick-up apart to change a head gasket. I monopolized my parents' garage for two weeks and spent many messy evenings putting the engine back together. It was during this time I realized I would never be a professional mechanic! I remember washing my hands with some soap that had a lot of grit (sand?) in it and it didn't do a good job. I still get greasy every now and then tuning up the family bikes and I use Scrub Daddy to clean my hands now (Scrub Daddy was originally marketed as a hand washing sponge for mechanics).
We would probably want a bottle or two of this stuff lying around the house for messy clean ups. Mechanics would probably want a lot more. I think this is a product that fills a niche and is very useful. I am IN!
Do Sharks Clean Up?
The biggest objection Bryce will face is the niche aspect of his product. While his patented formula, successful Kickstarter campaign, and decent sales numbers may impress the Sharks, it's still a one product business. In the previews, Robert seems very interested, but that doesn't mean he'll bid. Grip Clean doesn't have the social media buzz a company that's getting a deal usually has, either. There's no mention of Shark Tank on the Facebook page and there are no Tweets at all on the Twitter page. This is one of those pitches where all the Sharks will say "you can do this on your own," as they politely go out.