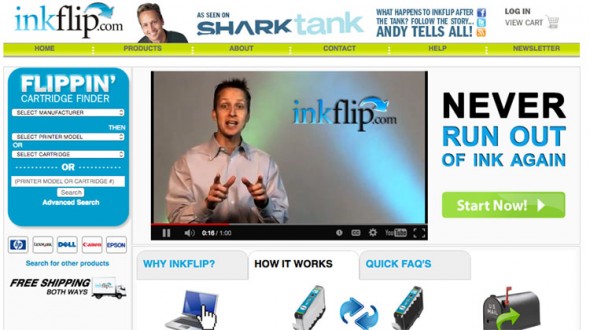 Andrew Sperry comes to episode 112 of the Shark Tank with his printer cartridge refill service, Ink Flip. Sperry was annoyed by the struggle of running out of ink while trying to print out last-minute or large jobs. Frustrated at the high cost of replacement cartridges, he came up with an idea: a refill service that would work like a DVD rental program, similar to Netflix. When a user runs out of ink, they could simply drop the cartridge in a pre-addressed envelope, and mail it back in exchange for a high-quality refill cartridge, ensuring that subscribers would never again face the frustration of a last-minute print job and an empty ink cartridge.
Will the Sharks buy into the unique recycling program?
Ink Flip Shark Tank Recap
Sperry asks the Sharks for a $150,000, in return for a 20% stake in his company. He presents his story with the panache of a salesman, explaining that his business is "like online movie rental for your printer."
Kevin O'Leary wants to know where he can get his first cartridge, because "the friendly neighborhood ink companies are going to have you assassinated." The first nibble has been taken – the Sharks are concerned about the proprietary nature of the ink cartridge business, and that the ink companies will crush any start-up attempting to encroach upon their territory.
Robert Herjavec clarifies the concern; "Why would the manufacturer let you take away their revenue?"
Sperry responds that the manufactures can't require that users purchase only their cartridges, and that ink refills are a "10 billion dollar business."
Herjavec follows up with one of the Sharks' key questions: "Do you have sales?"
The Numbers are…
Yes. Sperry has $10,000 in sales in the six months since he's started his company. Kevin O'Leary is unimpressed. He wants to "have a math lesson." He asks Sperry how many customers will "flip" their ink cartridges per year, and the cost and profit on each flip. With a number of about $70 per customer per year, O'Leary wants to know what the cost is of acquiring that customer. Sperry doesn't know. He explains he's in the Shark Tank for their expertise.
Herjavec expounds, explaining that the business model is built upon the idea of getting customers, but Sperry doesn't know the cost of acquiring customers. Barbara Corcoran wants to know how much he's invested personally. Sperry says he has about $50,000 into the business. He hasn't made back his own investment, with his $10,000 in sales.
Without the knowledge of how much it will cost to build his customer base, O'Leary is out. Daymond John sees no proprietary product, and doesn't believe Sperry has the business background to make his model work. He's out. Herjavec explains that Sperry wants to use "my money to test the market." He's out. Barbara Corcoran says she's "imagining $150,000, and how I had to kill myself to get that, and I couldn't imagine me giving you that money, just to see if that would work. You haven't done your homework, and I'm out."
Sperry walks out of the Shark Tank without a deal.
Ink Flip Shark Tank Update
Sperry recognizes his own failure, and tells the Sharks he knew he should've done more research into the cost of marketing his business before coming on the show. Without the crucial number- the cost of gaining new customers, he was unable to make a deal.
The Ink Flip website is still operational, and Sperry uses his social media to promote his blogs about his Shark Tank experience. The business is still up and running. While the Sharks didn't think his refill business would print them money, he seems to have been able to keep it afloat.
Andrew closed the business in April, 2010. He is now the Chief Operating Officer at Renew.
Ink Flip Company Information