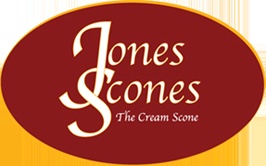 Jones Scones founder J. Jones pitches his cream scones to the Sharks in episode 423. Jones is a multi-talented entrepreneur who started making scones while living in England and Scotland. He wasn't a fan of the dry, lumpy scones that were the norm, so he started making his own cream scones with a moist and cake-like texture. When he returned home to his native Denver, his friends and coffee shop compatriots liked them so much, he started a business to bring his pastry vision to the masses. A lawyer by profession, Jones is also a night club singer (he  won "Denver's Next Nightclub Singer"), a black belt, and a colon cancer survivor. Since beating cancer in 2012, Jones has made Jones Scones the "center of his being." Jones believes in love and kindness as core values and wants his company to be "about something more than just money or product."
Jones Scones Shark Tank Recap
J. Jones enters the Shark Tank seeking an investment of $100,000 in exchange for 25% of his business. Jones spent time in England, where he discovered English scones. When he came back to America, he entered law school, but his scones were so popular, he dropped out to pursue baking as a career.
The scones are selling at an impressive rate of $5,000 a month, and are being sold through six Whole Foods stores. A mistake with a co-packer put a serious dent in sales, bringing them down from $113,000 a month. With a fresh start, Whole Foods is willing to bring the line back to the stores, but Jones needs capital to rebuild the brand.
Daymond John calls Jones "a likeable person" but doesn't like the scones. He's out.
Robert Herjavec is unimpressed by the decline in the past three years. He wants to know how Jones is going to turn things around. Jones responds that he's got a great team. Wrong answer. Mark Cuban jumps in with "That's bull crap," and Herjavec agrees, saying "I hate when people tell me, 'the answer to my salvation is a consultant.'"
Who's In?
Lori Greiner believes that ten years in business without gaining ground shows "something is wrong." She's out.
Robert Herjavec doesn't believe he has "time to be part of your team." He's out.
Kevin O'Leary says "there's nothing proprietary about making scones," adding "this is all about money. I can't see how I can make any." He's out.
Jones thanks the Sharks, and leaves the Tank, not even giving Mark Cuban a chance to say he's out.
Jones Scones Shark Tank Update
In spite of the setbacks, Jones Scones is still in business. It turns out that there was more to Jones' story than he shared on the Shark Tank. At around the same time his business took a hit from the poor choice of co-packer, he discovered he was battling colon cancer.
The diagnosis shifted Jones' focus, and made him more determined than ever to make Jones Scones a success. He moved to another co-packer, this time choosing a partner who was in a closer location so that he could personally respond to any problems that arose. Jones Scones is gaining ground slowly, and Jones hopes to continue "spreading the love" with his tasty baked English treats.
In the second half of 2018, after 20 years in business, Jones shuttered the company and went back to practing law.
Posts About Jones Scones on Shark Tank Blog
Company Information