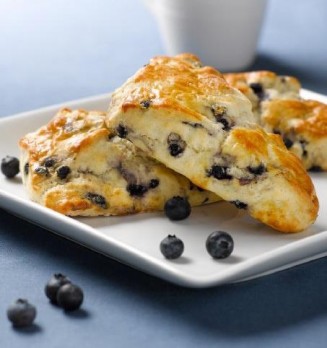 For most people, scones are a rather dry pastry resembling a biscuit in texture, but Jones Scones founder J. Jones developed his cream scones to have all the taste of a scone with a creamier, more cake-like texture. Jones fell in love with scones while living in England and he created his cream scones to satisfy his craving for a moister, creamier scone. Jones brought his cream scones back to his native Denver where friends, family, and local coffee shop patrons raved, so he started a business. After a bout with colon cancer last year, Jones re-dedicated his life to building Jones Scones.
Cream Scones as a Business
In any US city or town, you can probably find a bakery or coffee shop that serves a scone. In England, scones are a £64 million a year industry. Baked goods sales in the USA topped $35 Billion in 2012, though no scone-specific stats were available. It's safe to say that, if Jones cream scones taste good, they'll find their way into the stomachs of consumers.
I like scones and cream scones sound delicious. Jones Scones features a variety of flavors like Chocolate Chip,  Blueberry, and Cranberry Cream Scones. The products are available in several Whole Foods markets in Colorado and some independent shops in Colorado, New Mexico, and Kansas. Jones also has a distributor arrangement in place. While the retail availability is still limited, I am sure if the public likes Jones Scones, it will increase.
Do Sharks Like Scones?
With all the food entrepreneurs appearing in season four, I wouldn't be surprised if the Sharks put on a little weight! Jones will surely have samples, and if the Sharks like his cream scones, one obstacle will be overcome immediately. Since Jones has some distribution, he is sure to have sales, which could spark interest from one or more of the Sharks – as long as the numbers are decent.
At issue with any food company on Shark Tank is distribution. If Jones can effectively distribute his product, it has the potential to be a national brand. Contract bakeries around the nation could ease his local production burden and reduce shipping costs while expanding distribution. He'll need to find the right strategic Shark to help him. Assuming the Sharks like the product, I'd expect an offer or two. I am "IN," with a Blueberry Cream Scone!