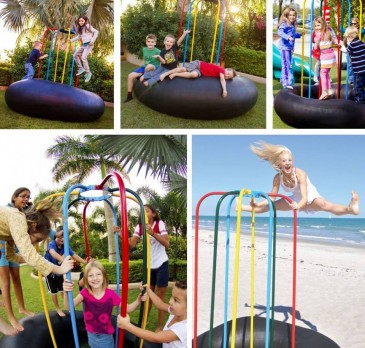 Husband and wife business partners Steve and Rachel McMurtrey hope the Sharks hop in and invest in Jungle Jumparoo, their "better bouncing toy" for kids (and adults) in Shark Tank episode 605. The McMurtreys had an unsuccessful Kickstarter campaign in June of 2013 and they hope the Sharks can infuse some capital into their business.
Basically, the product is a series of steel bars mounted on top of a super strong inner tube. Simply grab one of the bars and start bouncing! Since it's low to the ground, it's a lot safer than trampolines. Jungle Jumparoo is not a new invention. Rachel McMurtrey grew up jumping around on a prototype which was invented by a farmer near her childhood home. The farmer has passed on, but Rachel and Steve acquired the rights and began producing the bouncy toy in 2012. Their market research showed them kids LOVE the Jungle Jumparoo – they stay on it for hours!
Right now they're busy testing and manufacturing the product. They started in their garage, and they want to make the leap to big production runs in a "real" manufacturing facility. They likely need a Shark to help with cash to get production rolling. Will the Sharks jump at the chance to invest?
Jungle Jumparoo Shark Tank Recap
Steve and Rachel enter seeking $100K for 20% of the company. After they announce themselves, a bunch of kids come out and start jumping around. Mark comments that it's a broken ankle waiting to happen. The McMurtreys now own the rights to the product and have a patent pending.
Robert thinks it's dangerous, but they explain more accidents happen on trampolines. They're currently selling at Sam's Club Roadshows and online and they've sold 1200 units in a year. Lori brings up the size of the packaging could be a problem. Daymond wants to know why they need an investor and they explain they need the cash to fill a big purchase orders.
Lori thinks demonstrating the product will be an issue, so she's out. Mark still thinks it's dangerous, he's out too. Robert loves toys but he doesn't believe in the product, he's out. Mr. Wonderful wants to make money but thinks scaling up will be a problem due to the size of the product – he's out too. Daymond thinks the margins aren't good enough, and he goes out. The McMurtreys leave with NO DEAL.
Jungle Jumparoo Shark Tank Update
The Shark Tank Blog constantly provides updates and follow-ups about entrepreneurs who have appeared on the Shark Tank TV show. As often happens, the McMurtreys saw a huge spike in sales after appearing in the Tank. In 2017, they went on another TV show called the Toy Box – like Shark Tank but for just toys. They pitched TubeLox, a life-sized 220 piece construction set.
In June, 2022, the Federal Government issued a recall due to high levels of lead in the yellow poles. Instructions were given on how to contact the company for replacement poles.  As of December, 2022, they've remedied the recall situation, but there are several knock-offs on the market. The company is still in business and has $1-$2 million in annual revenue.
Posts About Jungle Jumparoo on Shark Tank Blog
Jungle Jumparoo Information
Video