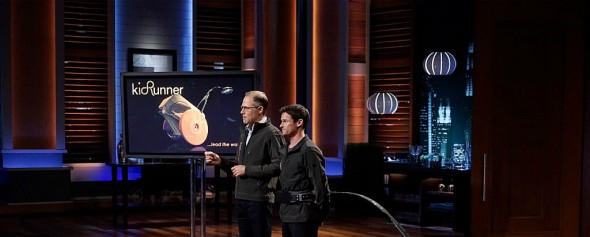 Will Warne hopes the Sharks take a run at his KidRunner, a pull-along kid's seat for joggers, in Shark Tank episode 723. Warne tried to get KidRunner funded on Kickstarter back in the spring of 2015, but he was unsuccessful. Since then, he's been forging ahead with his product.
The KidRunner looks a lot like a bicycle trailer for pulling a kid, but it's designed for joggers. Parents simply secure their kid in the lightweight, enclosed seat, strap on the fully adjustable lightweight waist harness, and go! Warne has some high-profile runners as brand ambassadors who actually run races while toting their kids. The product is stable, aerodynamic and sleek and lightweight (about 20 pounds) due to its carbon fiber and Kevlar construction. Unlike stroller/runners, the KidRunner offers a smoother ride and allows for rougher terrain.
The product is currently available on a "pre-order" basis with a $200 deposit; the total cost for a new unit is $750. They've partnered with Composite Approach, a contract manufacturer specializing in small-scale advanced composite production and assembly, to build the units. Pre-orders ended in December 2015 and delivery of the first units should begin in April or May of 2016.
Warne likely needs a Shark's capital for production and assistance with marketing and distribution. Will a Shark run with this company and invest?
KidRunner Shark Tank Recap
Will enters with professional runner Max King pulling Will's daughter in a Kidrunner. He's seeking $500,000 for 20% of the business. He tells the Sharks running strollers are a billion dollar business and Robert is skeptical. He asks to try it and runs up and down the hall. He likes it! All the jostling has made little Sophie upset, but Robert blames Kevin!
Both Robert and Kevin air concerns over safety and Will rebuts every objection. Will says the product in the Tank is a prototype. He plans on selling them for $750, which some Sharks think is a lot. He's invested $73,000 so far. Barbara is the first to go out, stating she doesn't think Will will get it to market. Mark and Robert agreed and went out. Lori said she found the product unappealing and she goes out. Kevin is quick to follow.
KidRunner Shark Tank Update
The Shark Tank Blog constantly provides updates and follow-ups about entrepreneurs who have appeared on the Shark Tank TV show. They did finally bring it to market. In 2021, they ran out of the first version and they are taking pre-orders on the "2021 Version" on the website. By November, 2022, they are up and running and fully stocked with product. The price is lower, too: $674. Annual revenue is estimated at $4-$5 million.
Posts About KidRunner on Shark Tank Blog
Company Information
Video