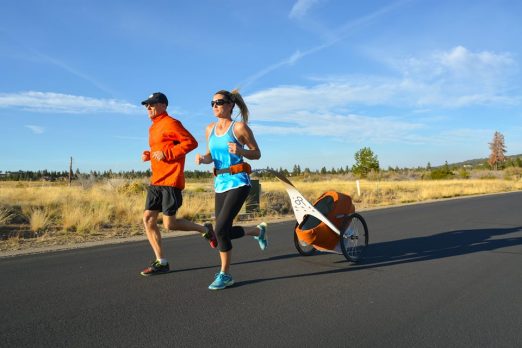 Kid Runner inventor Will Warne hopes joggers, and Sharks, like his pull-along jogging stroller when he pitches it in Shark Tank episode 723. The product looks like a bicycle trailer that attaches to the torso, allowing parents to pull their kids behind them while they jog. Basically, the child is pulled behind their parent as they run.
The Kid Runner has aircraft quality construction with a carbon fiber and Kevlar shell mounted on sturdy, all-terrain wheels. It's ergonomic and easier to tote than most push jogging strollers. Warne has a lot of professional runners using the product as brand ambassadors and starts delivering product the same day his Shark Tank episode airs. At $750, the Kid Runner isn't cheap, but its aerodynamics and light weight make it a favorite with joggers who like to bring their kids along for the ride. Will a Shark come along for the ride, too?
My Take on Kid Runner
I'm not a runner, so this isn't something I'd rush out to buy. I see runners every day pushing kids in heavy-duty strollers, so I know there's a big market for this product. It seems logical that pulling a kid is safer and better for you than pushing him or her, and the Kid Runner looks like it's sturdy and safe enough to be up to the task.
I've owned bike trailers for kids in the past – in fact I'm converting one of our old ones into a cargo cart for pedaling to the beach with all our gear. I understand the need to be able to tote kids along while getting a little exercise, so I thing Warne is on to something. The $750 price tag – more than the cost of my first used car – seems a bit steep to me, but I am sure many parents who run would pay the price.
While I wouldn't own one, the quality of construction and sleek design of the product make me believe the Kid Runner is a winner. For that reason, I'm in.
Do Sharks go along for the ride?
There are a few things that make me think Kid Runner doesn't get a deal in the Shark Tank. The first is the project failed to reach its Kickstarter goal of $50,000; they only raised $1,915. While that may be a testament to the marketing and social media skills of Mr. Warne and his colleagues, it causes concerns around proof of concept issues.
The second reason is the price tag. The Sharks will not like the $750 price and will view it as a barrier for investment. Kid Runner is a niche product that the Sharks will pass on
The third reason is Kid Runner isn't making a big deal about their appearance. While they do announce the appearance on their website, their social media doesn't have a lot of Shark Tank related buzz. Usually, when a business isn't "shouting from the rooftops" about their appearance, it's because they don't get a deal.