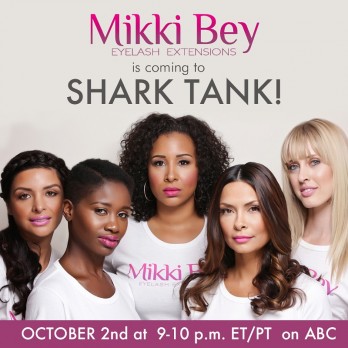 Mikki Bey hopes to extend her business prospects and hook a Shark for an investment in Mikki Bey's Eyelash Extensions in Shark Tank episode 702.  Bey, a Detroit native, began her career as a news producer for CBS but soon found she needed a creative outlet and found her way into the world of celebrity make-up artists. She's done make-up for Amber Rose, Jason Derulo, Bristol Palin, Melyssa Ford, and many more.
In 2011, she started Mikki Bey Eyelash extensions. While she still does some celebrity work, her eyelash business focuses on "regular women." In her studio in Culver City, California, Mikki makes thin eyelashes into thick luxurious lashes. For $200, she'll attach synthetic lashes to each eyelash; mink lashes cost $350. The process takes about 90 minutes and the extensions last about two months. Refill eyelash extensions take 60 minutes; the synthetics cost $85 and the mink costs $150. She's been featured in dozens of beauty magazines, including VOGUE.
Mikki Bey also pushes a business opportunity. For $600, you can attend one of her training workshops and learn her craft. The workshops come with a complete starter kit, so attendees can get right to work making money as an eyelash extension professional. Mikki Bey claims she earns a six figure income and that she can help others do the same. The "World Lash Tour" includes classes in Detroit, Dallas, Washington DC, Miami, New York, San Francisco, Scottsdale, Honolulu, Puerto Rico, Seattle, and London.
Can Mikki Bey get a Shark to lash out and invest?
Mikki Bey Eyelash Extensions Shark Tank Recap
Mikki's pitch opens with an "at home" segment at her salon, which she calls he "Barbie Dream House." She explains that eyelash extensions are a rapidly growing trend in the beauty industry and her system is proprietary. Her goal is to have Mikki Bey Eyelash Extensions in every luxury destination in the world.
Miki enters the Tank seeking $300K for 20% of her business. She says she can give anyone the "celebrity look," then asks Mark to come over. Mark replies "how do you want me?" Mikki uses a medical adhesive to glue one single eyelash on Mark. To demonstrate the full effect of a complete extension, Mikki has before and after models. She says she wants to patent her process.
Mr. Wonderful cuts right to the chase and asks why the business is worth $2.5 million. Mikki says her sales were $69K in 2012, $95K in 2013, and $130K in 2014. She says the value is in licensing her eyelash extension system and training people to apply them. Mr. Wonderful says she has a good business, but there's no place for an investor. He predicts she won't get a deal on Shark Tank and goes out.
After Mr. Wonderful goes out, Mikki starts crying, saying she can do this and she's not stopping; she asks the Sharks to "take the chance on me." Barbara calls her out, saying she has a service, not a business; Barbara is out.
Lori's out, but believes in Mikki and thinks she'll make it happen. Mark thinks she should duplicate herself and grab the money; she doesn't need him, but she has to grab it. He's out.
Robert says it's not scalable, he's out.
Once all the Sharks are out, Barbara says she needs to lose the crying stuff.  Says she has to cry privately, women give up their power when they cry. This prompts Mr. Wonderful to say "don't cry for money, it never cries for you."
RESULT: NO DEAL
Mikki Bey Eyelash Extensions Shark Tank Update
The Shark Tank Blog constantly provides updates and follow-ups about entrepreneurs who have appeared on the Shark Tank TV show. Mikki closed her salon one year after appearing on Shark Tank and got an MBA from Pepperdine University. She now works for a large pharmaceutical company.
Posts About Mikki Bey Eyelash Extensions on Shark Tank Blog
Mikki Bey Eyelash Extensions Company Information
Video