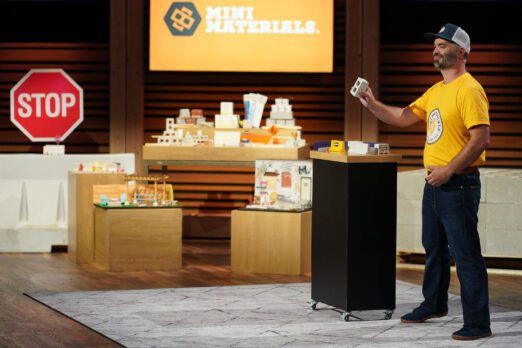 Jared Waters hopes to build a relationship with a Shark for Mini Materials, his miniature construction supplies business, in Shark Tank episode 1507. Waters didn't start the company, two guys named Mat Hofma and Erik Polumbo did back in 2015 and they were using a lot of social media marketing to earn $17,000 a month. Jared bought the business in 2022 and has added to the line since then.
Initially the business sold mini cinder blocks and pallets. Customers would build scale structures and finish them themselves. Jared introduced many more products like roofing materials, siding, flooring, dimensional lumber and more. All the Mini Materials are scale sized versions of the real thing to build whatever you want. They even sell blueprints. The company sells materials from a 1/32 scale on up to a 1/4 scale.
While there are other businesses selling similar products, Mini Materials is the leading supplier of miniature cinder blocks and pallets in the world.  Many of the designs are initially made with a 3d printer and then they create molds to form the various products. Think of it as an online building supplies business, only smaller. Jared likely wants a Shark to help with marketing.
Company Information
Video

Posts about Mini Materials on Shark Tank Blog
Mini Material: Redefining Construction in a Tiny World
Mini Materials Shark Tank Recap
Jared enters the Shark Tank seeking $100,000 in exchange for 20% equity in his company. He says the world has been through a lot of big changes the past few years: a BIG pandemic, a BIG recession. In fact, all of our problems have gotten too dang big. It's time to think small. He pulls out one of his small cinderblocks and says "that's what I'm talking about."
He introduces Mini Materials, authentic, high quality construction supplies for dollhouse construction, diaramas and true small scale creations. Mini Materials delivers joy by the pallet-load. He delivers high quality products made in the USA that are as real as they are adorable: real concrete, real wood and even real metal. This isn't your grandma's dollhouse company. After one day with Mini Materials, you'll be able to lift a pallet of concrete blocks (albeit small ones) with one hand.
The Sharks examine their samples. Kevin asks whay anybody needs any of this and Lori says "it's a toy." The Sharks think it's adorable. Kevin has never seen anything like this but he wants to know about sales. Jared says he bought the business one year and one month ago. The business has a lot to do with the online forum Reddit. One of the original co-founders saw a handmade mini concrete block on Reddit and he started making them. He put his blocks on Reddit and people loved it and it went viral on Reddit. Jared saw it was for sale so he reached out and bought it for $200,000.
Let's Hear More
He used a home equity loan on his house to buy it. What attracted him to the business is "it's making things." Margins go from 50%-93% with a blended rate of 75%. In the last year he has $200,000 in sales. A pallet of min concrete blocks sells for $20. The products are reccomended for 8-12 year-olds, but Jared doesn't have a hard number on the age of his customers. For that reason, Daymond goes out.
Mark can see doing stop animation videos and Jared is doing some of that now. His weakness is marketing. He's full time now. Jared grew up in rural Idaho and went to a 2 room school house. He moved to Portland, got his first job, got married and had kids. He wanted to start a business, but he wanted sales because it would be irresponsible not to with a family. In the past year, he's pulled out $55,000 out of the business.
Kevin thinks it's interesting but the market is too small; he's out. Lori thinks it's "cute as can be," but it's not a business for her; she's out. Robert has learned you can get a business to $2-$3 million by sheer determinaation but it's not for him; he's out. Mark says entrepreneurs are people who work through pain but he thinks it could be a long ride; he's out.
Mini Materials Shark Tank Update
The Shark Tank Blog constantly provides updates and follow-ups about entrepreneurs who have appeared on the Shark Tank TV show. Once an episode has aired, we monitor the progress of the businesses featured, whether they receive funding or not and report on their progress. The Shark Tank Blog will follow-up on Mini Materials & Jared Waters as more details become available.