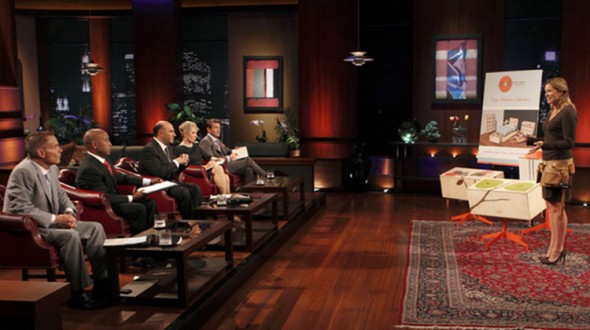 Kiersten Hathcock comes to episode 203 with her Mod Mom Furniture business. After leaving corporate America behind to become a stay-at-home-Mom, Hathcock needed a source of income. She researched markets, studied furniture design, and taught herself the business of creating, and selling, custom toy boxes and other furniture. Soon, Mod Mom Furniture got featured in high-end lifestyle magazines, including Better Homes and Gardens, and Dwell.
Hathcock is building all the furniture by hand, in her garage. She's exhausted from the sheer volume of production required to keep up with her orders. Her business is already successful, but she needs an infusion of cash to take it to the next level – mass production and retail sales. Will the Sharks think this is a business worth investing in, or will they think outside the toy box and swim on?
Mod Mom Furniture Shark Tank Recap
Hathcock enters the Shark Tank looking for $90,000, in exchange for 25% of the company. She demonstrates the unique design, like the "puzzle piece" lid, and asks the Sharks to "join me in making Mod Mom Furniture the next million dollar furniture company.
Kevin O'Leary, in typical Mr. Wonderful fashion, wants to know about sales. Hathcock explains that her sales in the past year were $34,000, with the limitation of her ability to make up to 3 of the toy boxes per week. She can't keep up with the orders. She's had to turn away offers from retailers from 17 countries.
Each piece costs her $115 to build, including the time she puts into the project. It retails for $475, representing a respectable profit margin. Robert Herjavec is impressed with Hathcock's story. He wants to know how they scale the company up. Hathcock has an Amish contact in her home state of Ohio who can make up to 1,000 units per week.
Who's in?
Barbara Corcoran believes Hathcock has underestimated her production costs, and that the investment required for success is too high. She's out. Daymond John is "petrified of the furniture business." He's out.
Kevin Harrington is familiar with another successful Amish business model, but he doesn't believe that Hathcock's idea has "the same pop." A third Shark is out. Only Kevin O'Leary and Robert Herjavec remain.
O'Leary makes an offer. He offers $90,000, in return for 33% of the company, but he wants a 7.5% royalty on every unit sold until his investment is recouped.
Robert Herjavec speaks up, making an offer of $90,000, for 33%, but with a difference- he wants the royalty, only after the business reaches a certain level in sales, in order to protect the company's ability to re-invest profit.
Hathcock accepts Herjavec's offer.
Mod Mom Furniture Shark Tank Update
As often happens, the appearance on Shark Tank launched Mod Mom into the stratosphere, increasing brand recognition and sales. Unfortunately, the deal with Robert Herjavec fell through. The setback has not stopped Mod Mom Furniture from growing. Some friends and family helped out with $30,000. In 2012, an angel called after watching the segment on HULU and gave Hathcock a better deal than Robert's. Hathcock eventually landed a licensing deal with Stanley Furniture, putting her brand on the international market. Unfortunately, that deal only lasted two months.
2014 saw troubled times both personally and professionally. She split with her husband and she put the business on the back burner until 2017. She did get back together with her husband and in 2018 she finally did a licensing deal with Little Colorado, a 30 plus year kid's furniture manufacturer. In 2020, she announced the first Frank Lloyd Wright kids' furniture line. She also wrote a book about her experiences as an intuitive who channels the spirits of abused children. Hathcock actually worked successfully with police in catching sexual predators.
As of May, 2022, the company is back in business doing $2 million in annual revenue.
Posts About Mod Mom Furniture on Shark Tank Blog
Mod Mom Toy Boxes Shark Tank Deal
Mod Mom Furniture Company Information