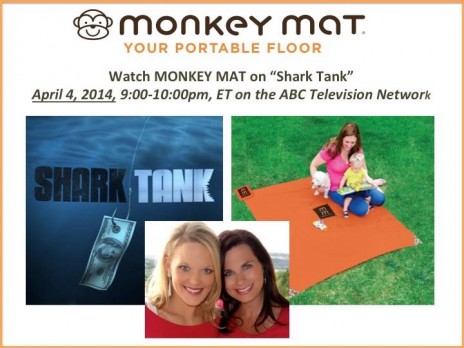 Entrepreneurs, friends, and business partners Courtney Turich and Christie Barany pitch Monkey Mat in Shark Tank episode 528 on April 4. The pair met 10+ years ago while working in a medical device company and became fast friends. They developed their idea together after Christie had a 6 hour layover in an airport with her small children. She brainstormed the idea for a small, easy to carry, "portable floor," and Monkey Mat was born.
Monkey Mat is 5 feet square and folds up into a small pouch that easily stows in its 6″ x 6″ pouch by buckling it to a diaper bag. Think of it as a portable picnic blanket that can work as a play area or exercise mat. Wherever you go, there will be a simple, clean spot to park yourself, regardless of the surface, be it on the airport floor or at the park. It comes in four colors and is machine washable.
The pair sells Monkey Mat on Amazon and has some initial success. They're likely looking to the Sharks for retail distribution introductions and cash for expansion.
Monkey Mat Shark Tank Recap
Courtney and Christie approach the Sharks looking for an investment of $100,000 in exchange for 30% of the company. They demonstrate it, explaining how convenient the product is for families, and hand out samples to the Sharks. Robert Herjavec is intrigued enough to ask about sales to date. Christie explains that they've achieved $60,000 in sales through their website and through 51 retailers, both brick and mortar stores and online, including three countries outside the US. The Monkey Mat is manufactured in China, but the retail price has the Sharks wincing: $39.99.  Cost is $13.14, due to the special nature of the nylon in the Mats, and the price of the steel discs used to weigh down the corners.
Kevin O'Leary questions the price. Mark Cuban points out that his wife would have no problem with the $39.99 price because of the convenience and portability of the Monkey Mat, but he wants to see the price come down to the $9.95 range, in order to appeal to the mass retail market.
Robert Herjavec runs into an obstacle with the pricing. He goes out because he doesn't believe they can get the pricing down. Lori Greiner disagrees. She believes they can do it. Kevin O'Leary doesn't believe they can pull off the lower pricing. "Maybe you'll get there," he says, "but it won't be with me." He's out.
Barbara Corcoran says the product's too small, the colors aren't "hip," and the price is too high. She's out.
Lori Greiner asks Mark Cuban to go in with her – she's ready to offer $100,000 for 35%. The pair agree to the deal, and are excited to get two Sharks for the price of one.
Monkey Mat Shark Tank Update
The Shark Tank Blog constantly provides updates and follow-ups about entrepreneurs who have appeared on the Shark Tank TV show. The deal with the Sharks did close.
Although Barbara rejected Monkey Mat as an investment, the ladies took her comments to heart. The Monkey Mat is now available in a new line of colors and patterns. The price has been slashed as well, bringing the Monkey Mat down to mass-market pricing at $19.99.
The company has enjoyed wild success, and has expanded the offerings to include Monkey Mat stakes for securing the mats, and a quilted version. In 2015, the entrepreneurs turned to Kickstarter in an ingenious marketing maneuver, setting a goal of $10,000 for their new quilted Monkey Mat. They brought in $30,000 from over 600 supporters, earning themselves an opportunity for Amazon reviews from all those who were "rewarded" with a sample of the $29.99 product through Kickstarter.
They later introduced a "plush" mat and the Fureez line of pet blankets, bowls and slings. Courtney left the business in 2017. As of November, 2021, they have $700,000 in annual revenue. In August, 2022, the website is down and social media hasn't been updated since 2019. By May, 2023, this status is unchanged. It looks like this business is done.
Posts About Monkey Mat on Shark Tank Blog
Company Information
Video