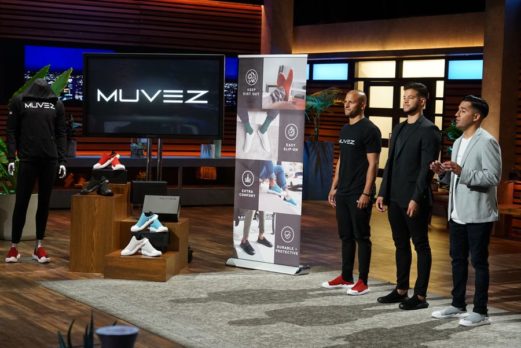 Ryan Cruz, Eric Cruz and Kevin Zamora hope for an investment in Muvez, their 2-in-1 indoor/outdoor shoes, in Shark Tank episode 1119. Muvez (pronounced MOVES) are a sneaker that converts into a slipper. The main body of the shoe is the slipper which slides into a removable rubber sneaker sole so you can "leave the dirt at the door."
The three guys have another partner who isn't appearing on the show. The four men literally sat around brainstorming ideas and built their first prototypes with tin foil, duct tape and cannibalized sneakers. Initially, they couldn't get "real" prototypes made by factories, so they literally traveled the world and attended every footwear trade show they could find. Those trips helped them find Lou Carrega, a chemical and rubber engineer with thirty years experience in the sneaker industry.
Carrega mentored the guys and introduced them to Chinese factories that could make the vision for Muvez come true. In September, 2019, they raised $33,873 on Kickstarter to get their first shoes on customers' feet. They call the sneaker/slipper combo "3 Ams." Single pairs cost $79.99 and come in black, grey, red and blue with white rubber soles. An interchangeable pack costs $169.99 and comes with two different colored pairs of slippers and two sets of soles: one white, one black. This allows for four different looks.
The guys are just getting started and only sell from their website. They likely want a Shark's help with overseas manufacturing and distribution. Will a Shark think Muvez is a good fit?
Company Information
Video

Posts about Muvez on Shark Tank Blog
3 AMs – Muvez Slipper Sneakers
Muvez Shark Tank Recap
Ryan, Eric and Kevin enter seeking $200,000 for 15% of the business. The Sharks like the product but universally fear the amount of consumer education required. They feel it's too risky to invest in. Mark, Kevin and Robert all go out because of this.
Luckily for the guys, Daymond and Lori like the products. Daymond in particular is also fond of their work ethic. Lori says she's interested if another Shark goes in with her. Daymond then says he'll invest $200,000 for 33.3% of the business. The guys ask if Lori is in on the deal too and Daymond says "absolutely not." Daymond says he wants to license the product and the guys appear excited. They ask if he'll do $200,000 for 20% and Daymond agrees.
Muvez Shark Tank Update
The Shark Tank Blog constantly provides updates and follow-ups about entrepreneurs who have appeared on the Shark Tank TV show. As of June, 2020, it doesn't look like the deal with Daymond closed. What is certain is the shoes are out of stock. The reason they're out of stock is in the aftermath of the original airdate, they sold out and did $400,000 in sales.
During the Covid-19 pandemic, the company donated $1 per sale to the World Health Organization. They also donated over 100 pair of their shoes to Jersey City, NJ hospital workers. As of April, 2023, they're still in business and are fully stocked. Reliable revenue figures are unavailable.