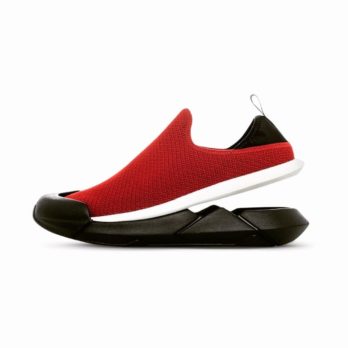 Ryan Cruz, Eric Cruz and Kevin Zamora always knew they wanted to invent something, they just didn't know Muvez 3 AMs would be what they ended up with. The guys literally sat around in their garage brainstorming ideas for new footwear. When they came up with the concept for their slipper/sneaker hybrid shoes, they made prototypes out of duct tape, old sneakers and aluminum foil.
Unfortunately, they couldn't find an overseas factory (apparently you can't get sneakers made in the USA anymore) that would make them. Undaunted, they continued to network and attend trade shows to learn all they could about the shoe biz. That's when they met shoe industry veteran and engineer Lou Carrega. Lou introduced the guys to factory owners in China that could help them. He also provided mentorship and quality prototypes.
They eventually got the design right. 3 AMs are a slipper and sneaker all in one. A rigid rubber sole clicks onto the slipper for outdoor wear. When you come back inside, you kick off the sole and relax in comfort. Slippers come in black, grey, red and blue and soles come in white or black.
When they finally got all their ducks in line, they pre-sold $33,873 worth of 3 AMs on Kickstarter and their dream became reality. They even had models wearing the slipper portion of  3 AMs on the runways of 2020 Fashion Week in New York. They're hoping to build momentum with their Shark Tank appearance and have a Shark help them get broader distribution.
My Take on 3 AMs
I wear a lot of Xeroshoes because Steve sends me new products to review.  I like the look of the 3 AMs but I'm not sure if I'd like the feel. I really need to try shoes on to know if I like them or not. That said, the sneaker/slipper concept is cool and unique.
I have a friend who was an executive at Reebok and New Balance. Whenever I ask her about a shoe on Shark Tank, she says "why the @#$% would anyone want to get into the shoe business?" She thinks these are clever, but doubts they'll get off the ground. Manufacturing sneakers is a complex process dominated by a few big players in  the market.  It's a tough business.
Will The Sharks Slip on These Shoes?
Shoes don't do well in the Tank. The Sharks know what a grind the business is. One of the biggest Shark Tank failures was Forus Sneakers. I actually had two pair – they were well designed and comfortable – before the whole company went up in smoke. It's a tough business and one the Sharks are reluctant to take a chance on.
The only way these guys get a deal is if they give up way too much equity. The Sharks aren't going to consider anything less than a 40% stake and the valuation needs to be generous. Even if that happens, I don't think a deal gets done.