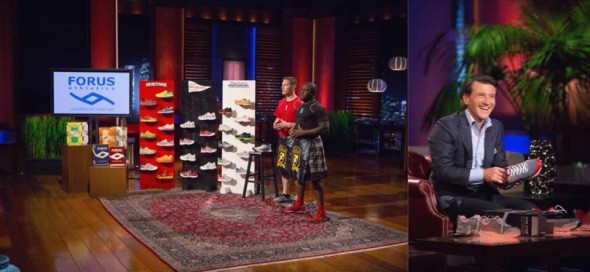 When Joel Vinocur and Arsene Millogo appeared in season six pitching Forus Athletics running shoes, I didn't think they'd get a deal, but I was excited about their product. I ordered a pair of their Membrane Crypt sneakers and I LOVED them. They actually sent me a second pair (I'm glad they did)! Forus sneakers are the most comfortable shoes I've ever strapped on my feet. I am now wearing the second pair and I'll be sad when they wear out.
The reason I'm sad is you can't seem to find the sneakers anywhere anymore. The company experienced some problems with customs and apparently didn't get product. They continued to take orders from customers and charge their credit cards, but never delivered product. Their social media has been dark since August, 2015 and they have ignored customer emails. I wanted to get their side of the story, so I called their number and left a message. I also sent the following email:
Hello Forus-

I am writing an update about your business for The Shark Tank Blog due to an enormous amount of angry comments on my site about your company. I would like to give you guys the opportunity to respond/comment on exactly what is going on with your business. I have dozens of comments from people who ordered sneakers and never received them.

Would you care to comment?

-Rob
Forus Complaints
Both the email and phone call went unanswered for two weeks. This is apparently the modus operandi for Forus. Shark Tank Blog has received dozens of angry comments regarding this company's business practices, many are like this one:
I ordered in May. Have contacted at least 50 times by email and telephone. All representatives are always busy, perhaps because there are none. The customs excuse got old after the first time. We have been snookered. These people, whoever they are, are laughing all the way to the bank. Take action with the Better Business Bureau, your bank or credit card company, and local government for fraudulent mail order practices.
BBB files indicate this company has a pattern of complaints alleging customer service issues, delivery issues, and refund issues. Specifically, consumers allege the business has collected payment for merchandise, and the business has failed to ship the merchandise in a timely manner. Consumers further allege, that the company has failed to respond to emails or phone calls in regards to order status and refund requests. On October 6, 2015, the company responded to a complaint stating, "We understand that the interval between the time of order and time of delivery has been unusual and long, part of the reason for this is because Forus Athletics was given a mere 10-day notice prior to airing on Shark Tank, from which we received majority of the placed orders. As a result of the short notice, we did not have enough time to fully prepare for the number of orders that we received as the show aired. As a small, emerging company, we do not yet have all the resources to help expedite processing, so we have been working around the clock to get this completed. It is difficult even for the larger brand companies to produce abroad, ship via transatlantic to the warehouses, and then ship to their customers in matter of days.Since the response, BBB has seen an increase in the number of complaints filed with BBB.

BBB sent notification to the business on October 23, 2015 to address the underlying cause of the pattern of complaints. Furthermore, BBB requested that the company respond with steps the company will implement in order to avoid similar patterns in the future.

BBB confirmed with USPS that the letter was attempted to be delivered, however  an authorized recipient was not available.
It's understandable that a small business can get overwhelmed by The Shark Tank Effect, but to essentially steal money is wrong. If they couldn't fulfill orders, money should be refunded. It's not complicated! Forus may be one of the biggest Shark Tank failures to date. They didn't execute and their business behavior is now considered fraudulent.
If you see this company on a re-run and like the shoes – do yourself a favor and don't order them. It's too bad, they had a great product.