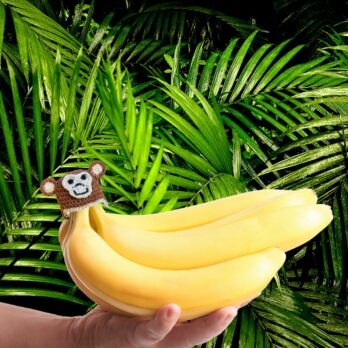 Sean Adler wants the Sharks to bite on Nana Hats, his "hats" for bananas that make them ripen slower, in Shark Tank episode 1408. Nana Hats are tiny, crocheted "hats" in a variety of whimsical characters. There are octopi, monkeys, Vikings, cats, unicorns, and many more. Each hat comes with a silicone cap that fits over the stems of your bananas. Slip the silicone cap over the stems, then slide your hat over it and you have a fun way to make your bananas last longer.
If you buy bananas, you know they can turn brown quickly. The reason they do that is they produce a natural ripening agent, ethylene gas. The gas is what causes bananas to turn brown. The patent pending silicone cap slows down the absorption of the gas and it makes your bananas last longer with fewer brown spots. The hats secure to the silicone cap with a small magnets. Not only do they stop bananas from ripening too fast, they're a lot of fun!
Sean got things started with a successful Kickstarter campaign that raised $4,761 back in November, 2020. He delivered his hats to backers in a timely manner and now they're for sale on the company website and Amazon. A hat costs $12.99 with some discounted to $9.99. A two pack of silicone caps is $9.99 – they'll fit up to 3 bananas. A two pack of large silicone caps is also $9.99 and they fit 4 or more bananas. Sean likely needs help with manufacturing and distribution. Will a Shark find this business "a-peeling?"
Company Information
Video

Posts about Nana Hats on Shark Tank Blog
Nana Hats Shark Tank Recap
Sean enters the Shark Tank seeking $150,000 for 10% of his company. He says everyone has come home with a bunch of bananas with the intention of eating all of them. Some of those "happy, yellow bananas are going to become brown and sad and end up in the trash." He explains how ethylene gas makes bananas go brown. Next, he pulls out a bunch of bananas with a Nana Hat on it. The Sharks chuckle as he explains the product. He asks who wants to help him put hats on all the bananas in the world.
Lori asks if the ethylene gas is completely shut out and Sean says no, but it extends the banana's life. Mr. Wonderful wants to know for how long and Sean says he makes no specific claim but his ballpark estimate is 8-10 days. Mark, while eating a banana, says "that's a value." Daymond has seen bananas in the store with plastic wrap on the stems and asks if it's the same methodology. Sean says yes and Daymond says "I learn new things every day."
He sells the hats in two packs for $12.99 and each pack costs $1.95 to make. Kevin wants to know why he doesn't just put a smiley face on the silicon sock and call it a day and Sean says nobody wants to look at a sock on their bananas. Sean tells the Sharks he came up with the idea in 2016 on his way home from the grocery store. He was thinking of ways to keep his bananas fresh. When he got home he searched for ways to do just that, but they all contributed to the single use plastics problem. Peter asks about Sean's background. He was a wealth manager for a large investment bank.
Who's in?
He thought of the idea in 2016 and when 2020 came around, he had time on his hands so he assembled the first 1500 units on his living room couch during the Covid-19 pandemic lockdowns. In 2021 the company did $483,000 in sales. In 2022, he's projecting $600,000 in sales and he'll make $240,000 on that. The Sharks love it. 60% of sales are direct to consumer and 40% is wholesale with the bulk of those orders coming from "one large online gift retailer." Lori wants to know if he's approached grocery store chains and Sean says he's been pounding the pavement on that.
Mark says he's not going to invest, but he congratulates Sean on his success. Daymond says he doesn't think it's big enough and Sean says he has a pending utility patent on the silicon sock. Daymond says Sean doesn't need an investor, he's out. Sean tells the Sharks he still works full time and he's the sole employee of Nana Hats and he owns 100% of the business. Peter says he's been around a long time and things like this sometimes go crazy. He'll offer Sean half the money and Sean has to get another Shark on board.
Lori says she'd go in with Peter and they could go globally bananas. They offer $75,000 each for 15% each. Kevin would do $150,000 for 10% plus a $1 per unit royalty. He goes on to say he could throw Lori under the bus and partner on that deal with Peter. Peter won't throw Lori under the bus and he urges Sean to take he and Lori's offer. Sean counters Peter and Lori with $150,000 for 15% (7.5% each). Lori counters with $150,000 for 20% (10% each) and Sean accepts.
Nana Hats Shark Tank Update
The Shark Tank Blog constantly provides updates and follow-ups about entrepreneurs who have appeared on the Shark Tank TV show. The deal with Lori closed and the company appears on Lori's website. After the show originally aired on the east coast, the company had over 1000 orders. It was also revealed that the "retail giant" Sean referenced in his pitch was Uncommon Goods. The company closed out 2022 with $750.000 in sales.
The Shark Tank Blog will follow-up on Nana Hats & Sean Adler as more details become available.