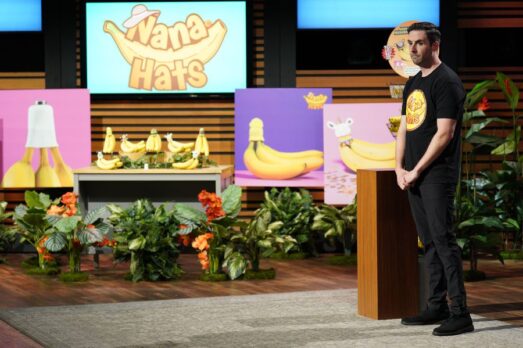 Sean Adler's company makes banana hats. You heard that right, Nana Hats are literally hats for bananas. They're even patented! The successfully Kickstarted business will be showcasing their whimsical, crocheted hats in Shark Tank episode 1408. Sean keeps a pretty low profile online, so I couldn't find out much about him beyond the banana hats company information.
The actual hats are a cover for the silicone cap that fits over a banana's stem. Bananas naturally produce ethylene gas which causes them to ripen and turn brown. The silicone caps slow this process down making your bananas last longer. The banana hats are just a cute covering. Whether you want a unicorn, a monkey or any of  the other Nana Hats on the website, your fruit bowl is going to be fresher and a lot more fun with one!
At fifteen bucks, they'd make a great gift for yourself or a loved one.
My Take on Banana Hats
My friends have a banana tree in their yard and this is the time of year they harvest them. They have so many, they give them away. My friend puts tape over the stems of her bananas. I never knew about this whole ethylene gas thing until she explained it to me during her first "harvest" a few years ago. Apparently, people "in the know" about bananas have known this secret for a number of years.
I'm actually going to buy her and her husband a couple for Christmas. I wonder if they'll ever do licensed banana hats? If they do, I'll take two Buffalo Bills hats (they're Bills fans).
Will the Sharks Flip Their Lids Over Nana Hats?
This should be a fun pitch. I think the Sharks will get a chuckle out of this product. I don't think they'll get a deal though, unless Lori likes them. Or Kevin.
If Lori thinks it'll go over well on QVC, she'll make an offer. If there's room for a royalty, Kevin will swoop in. Unless sales are ridiculously high, I think the Sharks will think the business is too small for an investor.