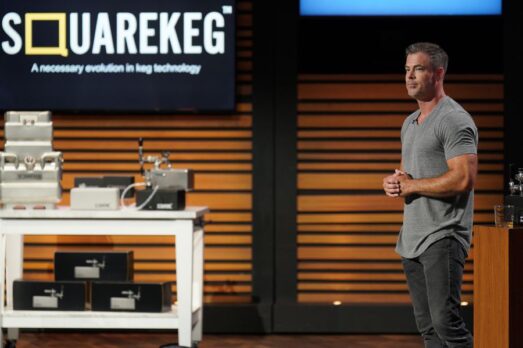 Tim Louks created his Square Keg to make having tap fresh beverages easy to fit in the fridge or to take on the go. He knew traditional, barrel kegs were unwieldy and full tap systems were expensive, but lots of folks wanted to be able to tap their favorite drink. The Square Keg fits neatly on a refrigerator shelf without taking up too much space. It's 128 ounce volume holds a twelve pack, yet takes up less space.
If you ever got a "growler" from a brew pub, you know the beer goes flat too fast. If you put it in the SquareOne keg, it'll stay tap fresh for as long as you want, or at least until you finish all the beer! You can put more than beer in it too. Tim's website has bulk cocktail recipes to make in the keg. People also use it to store cold brew coffee and other drinks.
Tim started the business despite not getting funded on Kickstarter. He says the idea came to him in the middle of the night. Since he was growing dissatisfied with his career as a medical sales rep, he decided to go all in on the Square Keg. He makes them in Spokane, Washington with all USA made components. He's hoping a Shark will want to tap in to his growing business.
My Take on the Square Keg
My beer drinking days are over. I used to drink beer, but now I prefer a bourbon or the occasional glass of wine. Back in the day, I had a full tap system. It required a big CO2 tank and it was a pain to clean. It was cheaper buying beer by the keg though, so I put up with it. I gave it to a friend when we moved to Florida.
I totally get the concept and Tim's dissatisfaction with a career in sales. I was in sales for my twenties and thirties in telecommunications and the mortgage industry. It got to be a grind and that's what made me buy a hot dog truck and get into blogging as a business. As for the kegs, I wonder if he has plans to make commercial kegs for bars and restaurants. The square shape would make storing them a lot easier. Time will tell.
Will Sharks Tap Into This Keg?
I don't have a good feel for this pitch. I know Mark likes beer, but that doesn't necessarily translate into an offer. Lori isn't a beer drinker, so I bet she goes out. That leaves Daymond, Kevin and Peter. I could see Kevin and Peter making offers if sales are good. They might even team up. As for Daymond, he might like the licensing angle since Tim can customize the Square Keg with logos. I'm not sure a deal gets done, but there will be offers.