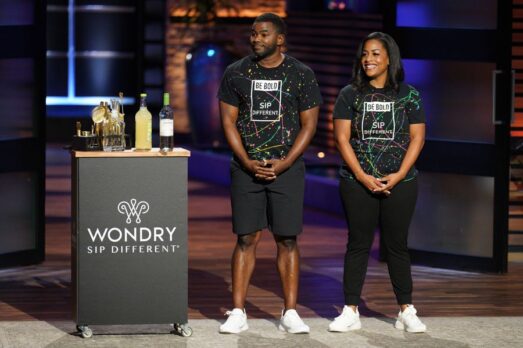 Wondry Wine founder Whitney Gates grew up watching her uncle make wine out of everything from apples to corn on the cob. After a long career as a brand manager for Fortune 500 companies, she decided it was time to manage her own brand. When you think of wine, you probably get visions of Napa Valley or the south of France, not Dallas. That's where she and her husband, Chaz, make, bottle and ship their wine.
Wondry Wine has about twice the alcohol level of normal wine. It doesn't even taste like wine – more like a sweet cocktail. Even though they started the business during the Covid-19 pandemic, they've made inroads in the greater Dallas area. Their products are on the shelves in area Target and Total wine stores.
The Gates family is all in on Wondry Wine. They hope to use it as a vehicle to create wealth for generations to come. Only 1% of wine makers are black, so the couple plans on using some of their profits to help other black owned businesses get a head start. Will the Sharks drink this wine?
My Take on Wondry Wine
I like to have wine with dinner on occasion, but I'm not big on sweet wine, so I'm not sure if I'd like it. I'd be willing to try it though. I do think what they're doing is kind of cool though. Dropping a successful career to get into wine making takes guts.
Do Sharks Like This Wine?
I can tell you for certain neither Lori or Daymond will make an offer. They both have acid reflux and can't drink sweet, fruity drinks, alcoholic or otherwise. It was the same reason they both passed on Ghia in episode 1404. That leaves Mark, Kevin and Peter.
Mark wont make an offer because his investment in Beatbox Beverages is a conflict of interest. Peter could make an offer, he's invested in beverage businesses on Dragon's Den. Mr. Wonderful, if he likes it, could make an offer. He always touts his relationship with COSTCO when a wine comes into the Tank. One thing is for sure, since this is the last pitch of the night, the episode will close with the Sharks raising their glasses and shouting "Le Chevaliers du Tastevin!"