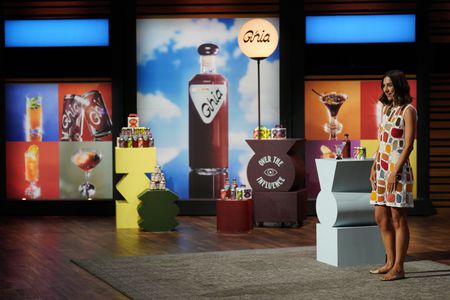 Melanie Nasarin seeks a Shark investor for Ghia, her alcohol free aperitifs, in Shark Tank episode 1404. She remembers spending summers near the Mediterranean sea when her family would make batches of limoncello and stay up at night drinking and telling stories. Melanie liked the taste and the social aspect of these gatherings, but not necessarily the mind numbing effects of the alcohol.
Melanie has a background in finance, corporate strategy and brand building. She launched Ghia in 2020 because she realized the non alcoholic "cocktail" market would surpass $800 billion by the end of 2024. She sells four products: the aperitif, a non alcoholic spritzer, a hazel nut spread and puzzles. All products are vegan and gluten free with no added sugars or artificial flavors.
She has her products in over 750 bars, hotels, liquor stores and mom and pop grocers nationwide. The drinks are also available on the company website and Amazon. There are dozens of drink recipes on the website so you can create your own concoctions at home. At $38 a bottle for the aperitif and $75 for a 12 pack of spritzers, the stuff isn't cheap. Apparently, they have quite the "cult like" following. She'd like a Shark's help going "mainstream."
Company Information
Video

Posts about Ghia on Shark Tank Blog
Ghia Aperitifs -Non Alcoholic Drinks
Ghia Shark Tank Recap
Melanie enters the Shark Tank and tells the Sharks she's originally from Lyons, France. She's seeking $250,000 for 5% equity in her company. She asks if the Sharks have ever taken a night off of drinking and the only non alcoholic drink is water. Melanie wants to take drinking back from alcohol. She talks about the taste and what its made of. Her beverages are the perfect cocktails without a hangover the next morning. Robert likes his drink which has 50 calories in it. Daymond makes a face like he doesn't like it. Robert compares it to Campari. When Kevin tastes his, he says "c'est tres bonne" which means "it's very good" in French.
The aperitif costs $6.50 to make and sells for $38. The bottle has about 12 servings. The spritzers cost $1.25 to make and sell for $5; she says she's getting the cost down to 70 cents in 6 months. In 2021, they were 75% online and did $2.5 million in sales. The Sharks are impressed, but not so much with the $1 million loss in 2021. They have $1 million in inventory. To date, the company has raised $3.5 million. The first $900,000 was at a $7.5 million valuation. She's raising another $6.5 million round at a $35 million valuation and she owns 57% of the business. The Sharks are flabbergasted. Sales for 2022 will be $.5 million and she expects to double that in 2023. Kevin says "wait, I need an alcoholic drink!"
Robert wants to know why she's giving the Sharks a $5 million valuation. Melanie says the Shark equity would come out of her shares. She wants a Shark to come in and help grow the business. The company launched during Covid, so it had to overcome a lot of hurdles. They're currently sold in 750 accounts. She personally reached out to 400 of those accounts.
Who's In?
Daymond is impressed that she came into the Tank appreciating the value a Shark brings to a deal. Unfortunately, he has acid reflux and he can't drink it; he's out. Lori says she loves Melanie, but – like Daymond – she can't drink citrus or bitter things; she's out. Mark says the category she chose is the hardest to get into, it's going to cost $50-$100 million to become a $100 million company; he's out. Robert says she picked the hardest category too, but she's killing it. Robert offers $250,000 for 5% – just what she asked for. Kevin says wait. He and Robert have some back and forth. Melanie says she wants to hear what Kevin has to say and Robert goes out. Kevin says he can bring a lot to the table. He offers $250,000 for 10%. Melanie declines.
Ghia Shark Tank Update
The Shark Tank Blog constantly provides updates and follow-ups about entrepreneurs who have appeared on the Shark Tank TV show. Since airing, Ghia has distribution in over 1500 stores in the USA and Canada. Most are independent liquor stores, restaurants and bars, but she also has product in CVS of all places. By October, 2023 she'd redesigned the bottle and increased the concentration level 46% which allows for nearly twice the servings per bottle. At this time, revenue is on track to top $7 million for the year.
The Shark Tank Blog will follow-up on Ghia & Melanie Nasarin as more details become available.