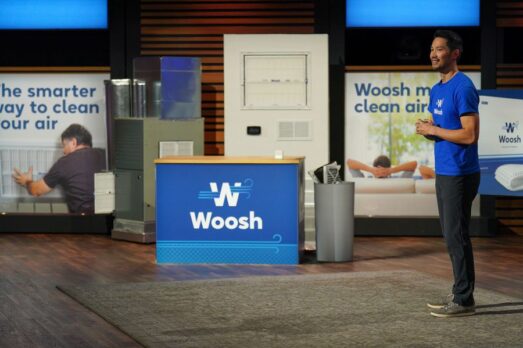 Winston Mok seeks an investor for Woosh, his air filters that turn your HVAC system into a whole house air filter, in Shark Tank episode 1404. The "smart filters" insert into your HVAC unit like regular filters, but they connect to Nest or Ecobee Smart Thermostats to monitor air quality. When poor indoor air quality is detected, the thermostat turns on your system which filters the air until air quality returns to acceptable levels. The Woosh air filter is a reusable plastic frame that you put filter media into to fit your HVAC unit's filter. The media is MERV 13 rated Fold™ filters which are are recommended by the CDC and EPA to mitigate against spread of COVID-19 and remove wildfire smoke. A sensor inside the filter frame also lets you know when it's time to change the filter.
Mok, a former Senior Product Manager at Google, got the idea for a better way to filter air during the 2018 California wildfires. The smoke made air quality so bad, he went looking for solutions. After doing some research, talking to homeowners and HVAC contractors, he realized there was a need for a better air filtration system for homes. Unlike room sized air purifiers, the Woosh system filters the air in the entire home. The first filters were made in Mok's garage with 3D printers and he began Beta testing products.
He got things started with a successful Kickstarter Campaign that raised $62,817 back in March, 2022. As of October, 2022 and the original air date, they haven't shipped products to backers and their website has the filters available on a "pre-order" basis. While the technology is very promising, it has yet to be delivered. Perhaps a Shark can help with that.
Company Information
Video

Posts about Woosh on Shark Tank Blog
Woosh Shark Tank Recap
Winston enters seeking $500,000 for 10% of his company. He asks the Sharks when was the last time they checked their air filter as he shows them a dirty air filter. As he does his pitch, he demonstrates the filter. He puts the media in the filter frame and explains the technology.
The integrated sensors connect to Bluetooth and sense when the filter needs changing. He tells Lori about how the 2019 California wild fires inspired the business. He ordered an expensive filter and it cost $25 to ship and he wondered why it was so expensive. There had to be a way to ship it cheaper. Winston tells the Sharks he grew up in Canada, moved to the USA and joined Google as a product manager; he's left Google to work on Woosh full time.
Kevin switches direction and questions the valuation. He wants to know the sales numbers but Winston says they're pre-revenue which causes the Sharks to audibly groan. Winston tells them about the Kickstarter funds and a partnership with Emerson, a Fortune 200 company that's an HVAC giant. They want to bundle Woosh with their smart thermostat. The value proposition for Woosh is it tells you when the filter needs changing and it monitors air quality.
Let's Talk Numbers
The filter and frame will sell for $99. Refill filters are $20 and they have a 33% margin shipped. The company is talking to big filter manufacturers about licensing which excites Mr. Wonderful. Kevin offers $500,000 for 12.5% plus a 50 cent per filter royalty in perpetuity. Winston isn't comfortable with the royalty. Robert doesn't see the value propisition; he's out. Daymond and Lori quickly follow. Mark likes everything about the business, but thinks it's a hard sell; he's out. Kevin calls Winston a duel patent guy with sneakers on and he ups his percentage to 15%. Winston waffles on the royalty.
After a commercial break, Kevin pushes the deal. Winston is clearly unhappy with the concept of a royalty. He asks Kevin if he'll work  with the equity. He counters with three years on the royalty. Kevin says he only has the patent and the sneakers. He counter Kevin with $500,000 for 10% plus the 50 cent per unit royalty. Kevin accepts.
Woosh Shark Tank Update
The Shark Tank Blog constantly provides updates and follow-ups about entrepreneurs who have appeared on the Shark Tank TV show. The company has delivered a few filters as of the air date. On show night, Kevin Tweeted:
"That's how you get a deal done! You know what also makes the 'whoosh' sound? The slow fanning of money."
The first rerun of this episode in August, 2023 is 10 months after the original air date. The deal with Kevin did not close and it appears the product isn't ready yet. Kickstarter backers haven't received their filters yet and the website lists them as "sold out."
The Shark Tank Blog will follow-up on Woosh & Winston Mok as more details become available.