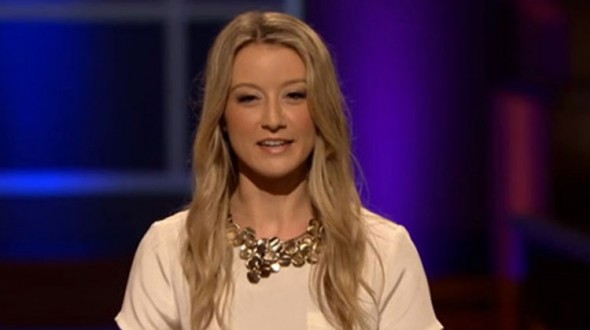 Jackie Courtney comes to the Shark Tank in episode 411 with her company, Nearly Newlywed. The concept is simple: Brides are often overwhelmed by the cost of a dress, or want more dress for their money. Rather than buying a new dress, which they'll only wear once, at retail prices, brides can use Nearly Newlywed's service to acquire the dress of their dreams, at a fraction of the cost of retail.
The beauty of the business model is that the dresses are not purchased by Nearly Newlywed. A bride goes to the site, and uploads a description and photos of her dress. Once approved, the dress is offered for sale on a consignment basis. Nearly Newlyweds receives a portion of the fee, and the new bride can decide to keep the dress, or re-sell it through Nearly Newlywed. Unlike a straight rental service, the Nearly Newlywed model allows for alterations. Will the Sharks bite?
Nearly Newlywed Shark Tank Recap
Courtney enters the Shark Tank seeking a $35,000 investment in exchange for 10% of her company. She comes to the stage with a model wearing her own wedding dress, which is just one of the high-end dresses available through the "online boutique."
She explains that, during her early time in New York City, she realized that celebrities and models rarely buy the designer styles they wear on the red carpet. Often, the clothing is borrowed for the occasion. She started Nearly Newlywed to help brides afford the designer styles they desire, on a more limited budget.
Courtney offers a brief presentation of her website and explains her business model. Kevin O'Leary wants to know how much capital is tied up in the business. Since Nearly Newlyweds works on a consignment basis, there are very few costs to the company. On each consignment, the company makes 35-40% of the sale, representing a good margin.
Robert Herjavec is skeptical. "I think the only time a woman would buy a used wedding dress is if she's divorced." Courtney disagrees, telling him that if a bride wants a specific dress, and can get it an affordable price, she's likely to take the deal. The Sharks want to know about sales. Courtney has sold only four dresses in the first month of business.
The Sharks then question how she intends to grow. Courtney explains that she's enjoyed some free press from the launch of her business, and that word of mouth is working in her favor, through social media. Mark Cuban is still skeptical. "You built that traffic because of this initial rush in PR. That's very difficult to sustain." Courtney details a list of other journalistic exposure opportunities.
Barbara Corcoran calls Courtney "articulate" and she likes the idea, but she feels that the business is too young, and that the model hasn't been proven. She's out. Robert Herjavec doesn't buy into the concept. He's out. Daymond John finds the space "attractive" because "the margins are 7000%." Nearly Newlyweds doesn't fit his model. he's out.
Kevin O'Leary likes Courtney, and likes the model. He makes an offer. He'll give her the $35,000 she's requesting, but he wants 40% of the company. Courtney asks if there are any other offers, but none surface. Mark Cuban believes that Courtney is too focused on a specific fashion style. He's out.
Courtney considers O'Leary's offer, but declines. The percentage is too high. She leaves the Shark Tank with no deal.
Nearly Newlywed Shark Tank Update
In spite of leaving the stage without a Shark investment, Courtney was able to get her business off the ground. Today, Nearly Newlywed is a growing business. Courtney has managed to find a partner in Kleinfeld's Bridal, an upscale wedding supply store in New York. Courtney may not have chosen to partner with a Shark, but she's doing just fine on her own, making Nearly Newlywed a success story.
Fast forward to May, 2023 and Courtney got married and had a son. Annual revenue for the business is $5 million.
Posts about Nearly Newlywed on Shark Tank Blog
Nearly Newlywed Once Worn Dresses
Nearly Newlywed Company Information