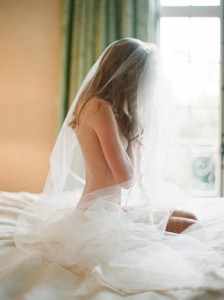 Nearly Newlywed entrepreneur and former fashion publicist Jaqueline Courtney pitches her "Once Worn" bridal dress business to the Sharks in episode 411 of Shark Tank's season four. Jackie hopes Nearly Newlywed will pique the Sharks' interest by offering high fashion frugality to brides to be everywhere. Whether you are a bride or a bridesmaid, Nearly Newlywed has a dress for that special day and can offer fashions from top designers like Oscar de la Renta, Monique Lhuillier, Elie Saab, Vera Wang, Marchesa, Lanvin, Carolina Herrera, Reem Acra, Phillip Lim, Alberta Ferretti, Temperley, Lela Rose, and more at a fraction of the cost of a new dress. Nearly Newlywed promises brides can wear the hottest styles without breaking their budget.
Nearly Newlywed History
Jackie Courtney is no stranger to the world of high fashion. Jackie was a publicist for major international fashion designers like Marni, Thakoon, Matthew Williamson, and Emilio Pucci. She also worked with editors at Vogue, Elle, Harper's Bazaar, InStyle, and more. Jackie even knows eCommerce, she helped develop online sales strategies for  Marc Jacobs and Donna Karan, among other luxury brands.
Jackie thought having a marketplace where brides can buy "once worn" wedding gowns would be a solid business plan and that idea gave birth to Nearly Newlywed. Brides who want big name designer dresses can purchase them online on the Nearly Newlywed website and sell them back at a guaranteed price of 30% of the original purchase price. Brides have the option of consigning their once worn dress on the site with a 70/30 split if they choose.
Nearly Newlywed is only about a year old, but has made huge inroads in the bridal market with their expert social media marketing. The New York based Nearly Newlywed team is constantly answering brides' questions and getting into discussions with gals worldwide. Jackie got the inspiration for Nearly Newlywed during her hunt for her own wedding gown. She found a pre-owned Vera Wang Diana gown which she personalized and re-sold; thus a business was born. Nearly Newlywed also plans on setting up a wedding accessory rental business soon.
Will Sharks marry Nearly Newlywed concept?
Nearly Newlywed is positioned in a huge, albeit niche, market. People spend a lot of money on weddings and brides have a way of getting what they want when it comes to their special day. I personally uttered the groom's mantra "I'm sure that will be just fine, dear" in the midst of my bride's planning on numerous occasions and when it come to that wedding dress, there isn't much discussion. Budgets do come into play when planning a wedding and the dress is often a big money item. Offering a solution to tame that financial beast is sure to be popular in some circles.
The drawback to the Nearly Newlywed model is the concept that makes it seem so attractive initially. Many brides "poo poo" the idea of wearing a pre-owned dress. They want a new dress they can preserve and pass on to their daughters (the irony of not wanting to wear their mother's dress is often lost in this scenario). While there may be a very good market for once worn dresses, there will always be a big percentage of brides who find the whole idea a bit tacky.
The Sharks could buy into the concept, but I am not sure they'll believe the viability of the business on a large-scale. Pre-owned dresses would seem to be a local type of venture. Part of the bridal experience is going to the dress shop and trying things on while sipping champagne and swapping dirty jokes with their friends. De-personalizing it with an internet purchase de-values the experience. There is value to the bride that wants that fancy fashion designer's dress at a steep discount, but I am not sure the Sharks will see past the downside aspects to the business. They will like the margins too; I can picture Mr. Wonderful drooling about a 70% guaranteed mark-up! While I do think there are many brides who would be interested in the service, I just don't see the Sharks marrying into the Nearly Newlywed concept enough to partner with Jackie.