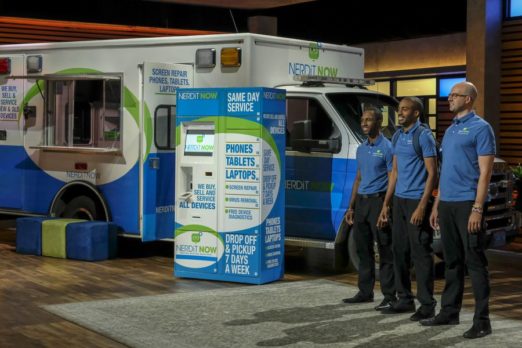 Jonathan Hoxter, Markevis Gideon and Jake Voorhees want a Sharks help to expand NerdiT Now, their mobile computer and electronic device repair business, in Shark Tank episode 1103. NerdiT Now is Gideon's brainchild. He's been entrepreneurial since he was a young kid with shoveling snow and selling candy in his neighborhood. He also loved taking computers apart to see how they work as a teenager.
Gideon carried his love for tech to his high school and college years. He went to Widener University in Delaware where he double majored in accounting and computer science. To supplement his income during college, he repaired computers, sold textbooks online and he even dabbled in used car sales. After graduating he lived abroad in China where he actually owned a bar.
Upon his return to the states, he started NerdiT Now in 2015. He repaired computers, phones and tablets and within a year, he felt he needed a storefront. He also needed help, so he enlisted fellow Widener alums Voorhees and Hoxter to come into the business with him. They won a $9000 grant from the University of Delaware and things really took off. They decided to buy an old ambulance and convert it to a mobile repair lab.
With their retail store, where they also buy and sell old electronics, their mobile unit and a kiosk, customers can drop off their broken electronics for repair after agreeing on a price. They either pick up at the kiosk and repair it in the NerdiT Now mobile or bring it back to the store for repair. Gideon wants to open more kiosks in the Wilmington, Delaware area and expand to Baltimore and Philadelphia. He likely needs a Shark's capital to fuel that expansion.
Company Information
Video

Posts about NerdiT Now on Shark Tank Blog
Nerd It Now – Mobile Device Repair
NerdiT Now Shark Tank Recap
Jonathan, Markevis and Jake enter seeking $150,000 for 20% of their business. They explain their business model and field questions from the Sharks. The Sharks like what they are doing and think the guys are smart, but ultimately, the business requires too much "proximity" for growth. As a service business, it's hard to scale quickly. The Sharks think they were a bit early and one by one go out.
NerdiT Now Shark Tank Update
The Shark Tank Blog constantly provides updates and follow-ups about entrepreneurs who have appeared on the Shark Tank TV show. The company continues to operate, but had some difficulties during the Covid-19 lock down. They were unable to secure PPP funding and are facing some financial stresses as a result. Jake Voorhees left the company (amicably). Luckily, they are the first certified R2 recyclers of IT equipment in the state of Delaware. They also got a $75,000 grant from Discovery Bank, a $25,000 grant from Capital One and a $100,000 grant from Barclays to refurbish and distribute computers to needy children.
They continue to grow the kiosk business with advertising screens; the advertising pays for 110 free repairs a month for low income patrons. Thee are also plans to open up a recycling center in Wilmington, as well as a downtown location for NERDiT's IT training program, which launched in 2020. The plan is to train people to run their own NerdIt now business. Gideon plans to provide a lot of jobs in his community, he even wants to manufacture the kiosks there.
It appears they weathered the Covid storm. As of November, 2021, the company has grown from 3 to 17 employees. They didn't qualify for the second round of PPP funds because they were making too much money! On November 1, 2021, the company brought on Roger Chaufournier as CEO to help build out the franchise model.  As of February, 2023, they are not offering franchises yet. Annual revenue is $4.6 million.