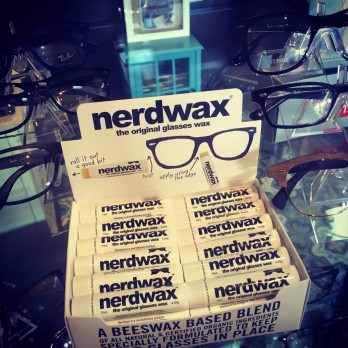 Don and Lydia Hejney pitch their successful Kickstarter project, Nerdwax, to the Sharks in Shark Tank episode 703. Nerdwax is a beeswax based, organic product that, when applied to the nose pads of glasses, prevents them from slipping off. The Hejneys funded their first production run of Nerd wax when they raised over $60,000 on Kickstarter in May, 2014.
Nerdwax comes in a tube that looks like Chapstick. Simply apply the wax to your glasses and they will stay in place up to two hours. Each tube costs $10, but you can buy a three pack for $20. The product is available on Amazon and each tube is designed to last 6-8 months. Since it's organic, it won't cause irritation for 99.99% of users.
The Hejnys hope the Sharks say "wax on" when they present in the Tank. Will a Shark bite on Nerdwax?
Nerdwax Shark Tank Recap
Nerdwax opens with an "at home" segment where Don tells how light bulb went off for inventing his product. They had a major glitch when they first started: they used a manufacturer that made a defective product, so they went back to making Nerdwax at home. They need a Shark to help them scale up the business.
The Hejneys enter with their kids seeking, $80k for 20% of the business. Everyone in the family is wearing glasses and the Hejneys LOVE wearing glasses. Don explains the product and how he came up with the idea: he was always sweating while setting up equipment when he worked in music festival production and his glasses were always slipping.
He explains the product, demonstrates how it works on his own glasses, and hands out tubes of Nerdwax to the Sharks along with pairs of glasses. He's careful to state that it's not Chapstick, it has a different formulation. They are selling Nerdwax primarily online. Each tube costs 35 cents per to make and they sell for 10 bucks. In their first year, they have $130K in sales, with a $62K profit. Their sales are a result of Nerdwax getting good media coverage. Mark wants to know what happens when the media coverage dies.
Who's In?
Each tube lasts 6-8 months and the Sharks think the sales cycle is too long. Mr Wonderful thinks it's too expensive, he suggests they lower their price and make smaller packages. Lori thinks they should get more widespread, but doesn't think she'll make money back; she's out. Daymond thinks they're too early – he goes out and begs them NOT to do a deal with a Shark.
Mr. Wonderful offers $80K for 10% of sales until he gets $240K back, plus 3% of the company. Mark cautions them not to try to get too big too fast. He says it's not an investable business – he's out. Troy Carter offers an $80K loan until he recoups $120K, plus he wants 10% of the business. Mark calls him "KEVIN JR!"
Again, Mark cautions the Hejneys; they have no debt and the problem with the two offers on the table is it saddles them with debt before they can grow. He tells them not to take either deal. Kevin says "shut up, you aren't writing a check!"
The Hejneys think it over and decline both offers as Daymond and Mark cheer!
RESULT: NO DEAL!
Nerdwax Shark Tank Update
The Shark Tank Blog constantly provides updates and follow-ups about entrepreneurs who have appeared on the Shark Tank TV show. Despite walking away from the Sharks, they built the business into a million dollar company. As of April, 2023, they are alive and thriving with $2 million in annual revenue.
Posts About Nerdwax on Shark Tank Blog
Nerdwax Company Information
Video