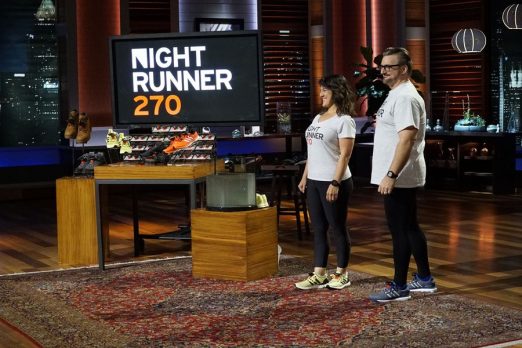 Renata and Doug Storer hope to light up the Shark Tank when they pitch Night Runner 270 in episode 804. Night Runner 270 is a pair of light weight, water-resistant LED lights that clip on to shoes and illuminate the area 30 feet in front of a runner with a 270 degree swath of light. They simply state their product is like "headlights for your shoes."
The pair began developing the product in 2013 and launched a successful Kickstarter campaign in early 2015 to fund their first round of production. The lights allow runners, walkers and bikers to see and be seen while moving around in the dark. Cars can easily see the lights and the user can avoid hazards like curbs and potholes. There's also a rear facing red light to enhance visibility to motorists.
The light weight lights are long-lasting LED bulbs that fasten to your shoelaces. No batteries required either: each unit has a simple USB charging port. Each pair costs $59.95. Reviews are mostly positive, though one Amazon review says "they won't stop a skunk from coming out from the woods after dark; trust me on this."
The Storers likely need cash to fund future production and assistance with mass market retail. Will a Shark see the light and invest?
Night Runner 270 Shark Tank Recap
Renata and Doug enter seeking $250,000 for 10% of their business. He explains how a stumble in a pothole while running in the dark inspired the product. They hand out samples and Mark and Lori try them out. Mark says he doesn't notice they are there.
They cost $15.50 to make and they wholesale for $30. The retail price is $59.95. In the 8 months they've been in business, they have $260,000 in sales. They are projecting $760,000 for the next year. Barbara says she doesn't see night runners in New York city, so she goes out.
Doug says the product would be good for workers who work in the dark; Kevin is now a little more interested. Doug says their new model for workers will be called the Night Shift. It has a 10 hour battery life as opposed to the Night Runner's 4 hours.
Robert offers $250,000 for 30%. Kevin immediately undercuts him and offers $250,000 for 15%. After a break, Lori offers $300,000 for 20%. Robert then changes his offer to $200,000 for 15% plus a $150,000 loan. Mark jumps in and offers $250,000 for 30% plus unlimited purchase order financing.
Renata and Doug go into the hall to discuss the offers. While they are out there, the Sharks agree to join forces and offer $250,000 for 30% – 10% each to Robert, Kevin and Lori. Doug says he was looking at 20% as the most he was willing to give up. After some squabbling, the Sharks split up and go back to their individual offers. When the dust settles, they go with Robert's final offer of $250,000 for 15% plus a $100,000 loan.
Night Runner 270 Shark Tank Update
The Shark Tank Blog constantly provides updates and follow-ups about entrepreneurs who have appeared on the Shark Tank TV show. The deal with Robert never closed, but it didn't matter. In the month following the initial air date, they did $300,000 in sales and finished the year at $880,000. They also heard from over 300 companies interested in the industrial model.
A few years after appearing, the company has changed its name to Night Tech Gear. By June, 2022, the industrial lights (called Night Shift) "are in-use by the nation's largest department of transportation, transit authority and theme parks." Their products are in over 50 countries. As of November, 2022, they have annual revenues of about $5 million.
Posts About Night Runner 270 on Shark Tank Blog
Night Runner 270 Company Information
Video