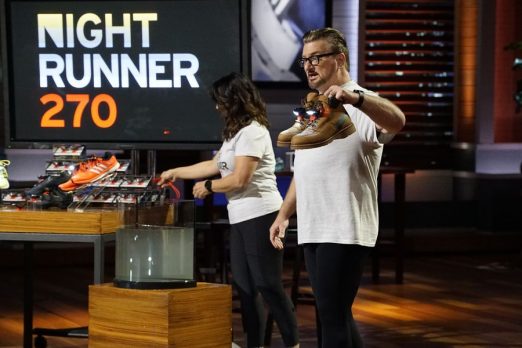 If you run (or walk) at night, you may want to check out Night Runner 270. Renata and Doug Storer raised over $42,000 on Kickstarter to get their business off the ground in the Spring of 2015. Night Runner 270 is headlights for your sneakers. They are a low glare, rechargeable, LED light that "mounts" on your running shoes giving 270 degrees of illuminated visibility up to 30 meters away.
This is a great product for people who run at night. It illuminates the path ahead, revealing potential obstacles. It also increases motorist's view of a runner. A lot of people, due to demanding work schedules, do their running at night. This increases the probability of injury from a fall or from being struck by a vehicle. Most accidents involving cars and runners happen between 6 PM and midnight, so visibility is important.
Doug got the idea for Night Runner 270 after tearing a ligament when he tripped in a pothole during an early morning run. It ruined months of training for the New York City Marathon. Doug, a former sales executive at Home Depot, and Renata, a former design Manager for a national architecture firm, decided to go all in with the business. They raised $120K in seed funds in addition to the Kickstarter campaign and have a pending patent for their product.
Right now, they do a lot of direct sales at various night running events. This is more of a brand awareness exercise, but they do have some commitments from running related retail stores in the US and five other countries. The ultimate goal is to get Night Runner 270 into national sports and outdoor chains. They likely want a Shark to help with overseas manufacturing and to accelerate their retail presence.
My Take on Night Runner
I don't run, but I do walk a lot at dusk with my wife when she gets home from work. I also bike a lot and do go out after dark on occasion. I  definitely see the need for this product. We usually carry a flashlight, but the Night Runner solution looks a little more practical.
The novelty of "headlights" on your shoes ought to make motorists take notice. I like the fact that they can go 4-8 hours on a charge and don't need constant battery changes. The LED lights should guarantee a fairly long life, too. It's a safety related product with a big potential market. For that reason, I am IN.
Will Sharks See the Light?
Doug and Renata have a lot of business experience and they are building their business intelligently. They continue to sponsor running events to create brand awareness and they have a specific, goal oriented 5 year plan. Combine that sort of experience with sales, and you have the makings of a deal with a Shark.
The Sharks know the running and walking accessories market is around $2.4 Billion a year, and this is a brand new product. It will get knocked off, so branding and getting to market quickly are vital. This is why they'll probably field at least one offer.
The one thing that can hurt Night Runner is a non Shark-friendly valuation. Often, when someone has a lot of business experience, they'll value the company properly, but leave out an ownership stake for the Shark Tank effect. Partnering with a Shark accelerates growth and the extra 5% is worth it. If the Storers take that into account, they'll leave with a deal. If they don't, they won't.