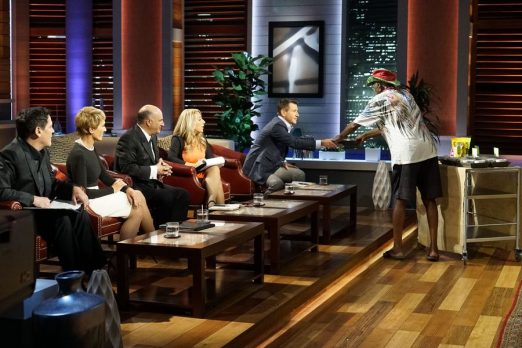 If you don't know Famous Amos cookies, then you probably don't eat cookies! These cookies have been around since the 1970's and, for a long time, Wally "Famous" Amos was the face of the company. Wally has a new cookie cooking down in Hawaii called The Cookie Kahuna and he hopes to regain some of his lost cookie fame in Shark Tank episode 804.
Wally wasn't always Famous Amos. He started making cookies while attending the Food Trades Vocational High School in Manhattan. He tweaked his aunt's cookie recipe while in attendance, creating what would become Famous Amos cookies. After dropping out of high school and joining the Air Force, he returned to New York and earned his GED and a college degree. He started working at the William Morris talent agency as a secretary and went on to become their first African-American talent agent. He lured superstar acts, like Simon and Garfunkle and Dianna Ross, to his portfolio by sending them cookies.
His cookies became legendary in the entertainment world and in 1975 he got a $25,000 loan from singers Marvin Gaye and Helen Reddy. With those funds, he opened his first Famous Amos cookie store on Sunset Boulevard in Hollywood. The business, and his fame, grew rapidly and by 1982 he had $12 million in annual sales. He grew the business by selling in grocery stores and other specialty retailers.
In 1988, the business wasn't doing well. He had losses of $2.5 million and sold the business for $3 million with a deal to stay on as a paid spokesman. That deal went sour and he left after one year. Famous Amos changed hands several times since and now the Kellogg Company owns the brand. The Famous Amos cookies you buy today are not the original recipe and many people are nostalgic for the real thing.
Amos can't use the Famous Amos name anymore. He says the downfall of his business was he didn't take advice well. His business acumen sharpened by the loss of his namesake company, he went on to found Uncle Wally's Muffins with a partner. That business is thriving and has product in over 3500 stores nationwide.
Still, the allure of the cookie appeals to Amos. That prompted him to start The Cookie Kahuna in 2012 from his residence in Hawaii. The Cookie Kahuna uses the original Famous Amos recipes and they're made fresh in small batches. Cookies are only for sale in Costco stores in Hawaii or online, but he wants to recreate the brand, and the taste, that made him famous all those years ago. He likely wants a Shark to help with accelerating growth and sharing his story.
My Take on Famous Amos aka The Cookie Kahuna
When it comes to cookies, my Nana made the best, but Famous Amos was a close second. I remember getting the original cookies in the late seventies and early eighties and they were a damn fine cookie. Even the altered Famous Amos cookies that are available to this day are a very good packaged cookie, but nothing like the original.
Wally's original recipe may be the best mass-produced cookies of all time. My mouth is watering at the memories! If he has the original recipes and he markets it right, he could be famous all over again as the Cookie Kahuna, "the caretaker of taste." I am so IN on this product!
Will Sharks take a Bite out of this Big Kahuna?
I am sure every Shark will recognize the Famous Amos brand. Wally probably can't mention it due to trademark issues, but he'll let the Sharks know who he is. The Sharks may also be familiar with the company's rise and fall. I am sure they'll all LOVE the cookies.
The biggest objection I see to this pitch is the "why are you here" objection. Amos has a very successful business – albeit with a partner; he shouldn't need the seed money. Other than a wacky valuation, that's the only thing I see derailing this pitch.
That said, he has the facilities and ability to ramp up production quickly. Uncle Wally's Muffins is based in New York, so he could easily make cookies at their facility. He already has a deal with Costco in Hawaii, I presume he could go nation-wide fairly quickly. Maybe he wants a Shark in on the deal to boost some of his lost fame?
That said, both Barbara, Lori, and Kevin have food products in their Shark Tank portfolios and could assist with both distribution and regional contract baking arrangements. I wouldn't be surprised if these Sharks make offers. Lori is best suited to capitalize on Amos' past fame: she could put these on QVC and sell out in five minutes. I'm betting Amos does a deal with one of these three Sharks, but I am leaning toward Lori.