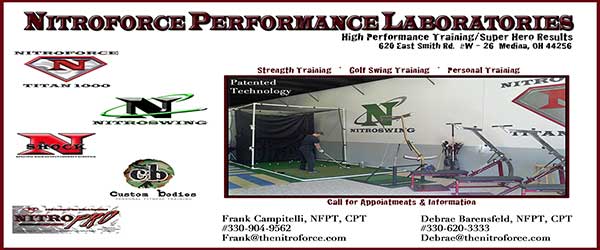 Frank Campitelli and Debrae Barensfeld enter the Shark Tank on episode 312, to try to convince the Sharks that their Nitroforce exercise system is going to be the next big thing in home gym technology. The pair are both certified personal trainers, with backgrounds in nutrition, so they bring to the table not only their product, but their years of experience. The pair have created a personal training system they hope will rival the fitness giant, BowFlex, based on an ultra-light frame. Resistance is provided by nitrogen gas modules, and can be set to range from 1 lb to 1,000 lbs. Will the Sharks be interested in beefing up their wallets with this innovative fitness company?
Nitroforce Shark Tank Recap
Campitelli and Barensfeld come into the Tank seeking $250,000 in return for 10% of Nitroforce. They present the Nitroforce 1000, and demonstrate a few of the "over 100" exercises possible with the machine. With a few adjustments, Campitelli shows how the machine can be changed to offer a wide variety of physical challenges.
Barbara Corcoran wants to know if this machine is a prototype. Barensfeld explains that they have about 90 units already in stock. Manufacturing has begun. Kevin O'Leary, as usual, wants to know about sales. The pair have sold 26 machines to clients without marketing, with a hefty price tag: $1,299. Cost of building each unit was around $250.
"Where's the part where it's worth $2.5 million," asks O'Leary. Campitelli asserts that the value is in the "intellectual property." The pair clearly believe in their machine and its versatility, but can they convince the Sharks that their steep valuation is valid?
Who's In?
O'Leary doesn't like their odds. "It takes an immense amount of capital to do a massive launch, and at the end of the day, you don't know until you've spent half a million bucks, if you're going to make it or not." He's out.
Barbara Corcoran wants to know what the difference is between the Nitroforce and "every other thing out there." Daymond John believes it will take over $2 million to "educate people" about the value of the machine. He's out.
Mark Cuban points out the error of their ways. "You can't come into the Shark Tank with a $2.5 million valuation, without having a proven sales distribution model. And, for that reason, I'm out."
Barbara Corcoran "can't think of anyone less likely to buy into" the product than herself, so she's out.
Robert Herjavec believes the machine is too complex, too large, and too expensive for the average consumer. The final Shark goes out, and the pair leave the stage with no Shark deal.
Nitroforce Shark Tank Update
Some entrepreneurs come to the Shark Tank and it seems as if their endgame is more focused upon the goal of gaining the massive exposure the Shark Tank can provide for their product. With a valuation of $2.5 million, and a product which is best suited to home-shopping style advertising, it would seem that Nitroforce achieved the goal of exposure, even without a Shark deal. The setback hasn't deterred Campitelli and Barensfeld. The company is still running, with new models featured on the website. It seems that the personal trainers from Ohio are a force to be reckoned with in the exercise equipment market.
In 2015, they introduced the Nitro Swing, a golf resistance trainer. As of April, 2023, they are still in business. Reliable revenue figures are unavailable.
Posts about Nitroforce on Shark Tank Blog
Nitroforce Performance Laboratories
Nitroforce Company Information