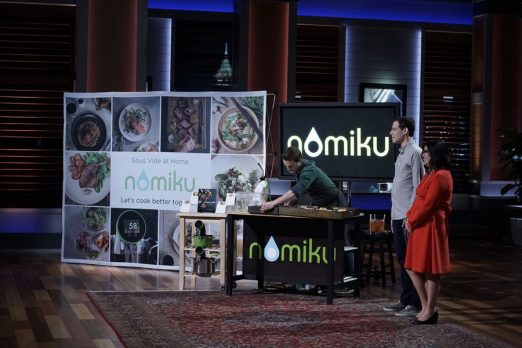 Abe and Lisa Fetterman hope to cook up a deal for Nomiku (pronounced NOM-EEE-KOO), their high-tech sous vide cooking device, in episode 807. Sous vide is a method of cooking food sealed in a plastic bag in a water bath at low temperatures. The method uses cooking temperatures of 130-140 degrees over a long period of time – usually one to six hours. Food cooks evenly and retains moisture lost with other methods. Top chefs all over the world use the method.
Nomiku clips to the side of any pot and heats the water for the water bath. There are two versions: the original and the WiFi model. The WiFi version allows users to remotely turn the device on and off through their Tender App for mobile devices. The original model sells for $199 and the WiFi model (currently on backorder as of 11/16/2016) costs $249.
The Fettermans got global raves when they raised $586,061 on Kickstarter for the first generation Nomiku. It was one of the highest backed cooking products ever on Kickstarter. Next, they raised $750,192 in a second Kickstarter campaign which they used for warehousing, components, tooling, mechanical, assembly, and testing costs. They actually lived in China for two years while developing and manufacturing the original Nomiku. Now they make both products in San Francisco.
The Fettermans likely need funds to speed up production. Will a Shark warm up to this business?
Nomiku Shark Tank Recap
Abe and Lisa enter the Shark Tank seeking  $250,000 for 5% equity in their company. They demonstrate the product and tell their story and how sous vide works. Kevin doesn't like the valuation. Neither does Mark. He thinks they should have more than $3 million in sales; he's out. Lori and Robert quickly follow.
Kevin likes it. He offers $250,000 for 10% of the business. When the couple wants to hear what Chris Sacca has to say, Kevin gets mad and goes out. Chris makes the same offer as Chris contingent on other investors in the company allow the Fettermans keep 40% of the company. After conferring, they accept Chris' offer.
Nomiku Shark Tank Update
The Shark Tank Blog constantly provides updates and follow-ups about entrepreneurs who have appeared on the Shark Tank TV show. The deal with Chris never closed. After tremendous delays for Kickstarter backers, products were finally delivered in June 2017 – at least some of them were. The THOUSANDS of comments on the Kickstarter page reveal extensive production delays, spotty fulfillment and substandard products that break after several uses.
Nomiku is still in business, but they no longer sell on Amazon. The company now offers pre-assembled Sous Vide frozen meals, but based on the feedback, they'll take some time to recover from a shaky start. In December, 2019, they shut the company down after failing to raise additional venture capital. Lifetime sales were $8 million.
Posts About Nomiku on Shark Tank Blog
Nomiku Company Information
Video