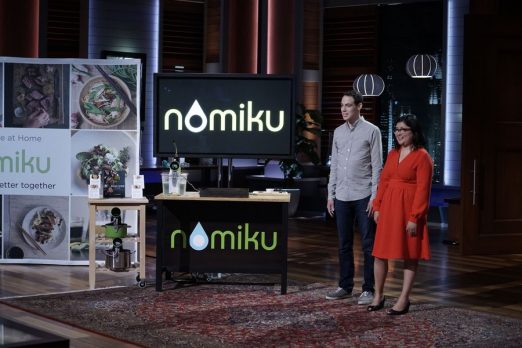 If you are familiar with the Sous Vide method of cooking, you are going to LOVE Nomiku. Husband and wife team Abe and Lisa Fetterman pitch Nomiku, a smart phone app enabled cooking appliance, in episode 807. They raised over $1.3 million on Kickstarter to get two versions of their machine made and on the market. The first version was the Nomiku, the second was the WiFi Nomiku.
For those who don't know, Sous Vide is a cooking method where food heats at low a low temperature (130-140 degrees) for a long time – sometimes as long as 8 or 9 hours. Food goes into a plastic bag, then into a water bath. Keeping the water at the proper temperature is vital to successful Sous Vide cooking.
Top chefs use the method, but the "old school" way involved close attention to temperature. New appliances make the method much easier. The Nomiku and other similar appliances keep water temperature in a simple pot at a constant temperature without a lot of monitoring. The Nomiku "knows" how long a dish should heat and automatically keeps the temperature within the proper range.
The game changer is the WiFi Nomiku. With an accompanying app, cooks can literally start cooking from their smart phone! With their many recipes, this is a game changer for busy people. Simply set the Nomiku remotely for whatever time you want dinner!
The Fettermans developed the original product in China – they actually lived there for two years while doing so. Now, they make the product in San Francisco. Nomiku is wildly successful and could be the next big thing in home cooking appliances. They likely need a Shark to help ramp up production and get into mass retail.
My Take on Sous Vide
I actually prepared a Sous Vide meal about ten years ago after my brother-in-law (he's a trained chef) showed me how to do it. The meal was a steak and vegetable concoction and it was divine! The problem was I had to monitor it for six hours – I didn't have a Nomiku.
This appliance makes this style of cooking SO EASY. I definitely want one. I do all the cooking in our house and Nomiku would make my job a lot easier. We're always running around to swimming or volleyball with our daughter and meals are often rushed. I'd love to be able to start cooking remotely and have a good meal hot and waiting when I get home. For that reason, I am IN!
Will a Shark Cook up a Deal?
This is a very cool gadget that could literally change the way millions cook their meals. If the numbers are good and the valuation is right, I expect multiple offers from the Sharks – perhaps even a bidding war. An invention like this is comparable to the microwave oven. It has the potential to be in nearly every kitchen in the world.
If the Sharks don't invest in this product, I'll be very surprised – but I'll get one for Christmas anyway!