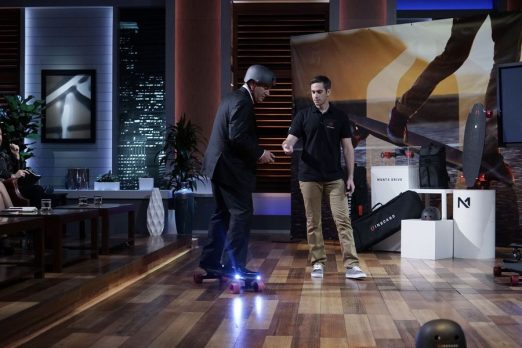 Ryan Evans, Dave Evans, and Chris Haley of Inboard Technology get some Sharks to take a ride on their M1 Electric Skateboard when they pitch their business in Shark Tank episode 807. The M1 is an engineering marvel. The internal "Manta Drive" powers the rear wheels directly, creating the smoothest electric skateboard ride out there. The technology of the Manta Drive gives riders a 7-10 mile range per charge. The motor is so small, if you didn't know it was an electric skateboard, you'd think it was a "normal" skateboard. Riders control the speed, when under power, with a hand-held remote or through a smart phone app.
They raised nearly half a million bucks on Kickstarter to get the business off the ground and they are currently shipping their product. It comes with a hefty $1399 price tag, but the skating community is buying them up like hotcakes. Their current challenge is keeping production in line with demand.
The M1 is the latest in personal transportation. Motorized skateboards, skates, and all other forms of easily used transportation are all the rage on campuses and in cities where millennials are shunning cars for cheaper, greener transportation. This company needs funds to keep production moving, but can a Shark ride a skateboard?
My Take on the M1 by Inboard
All my kids all have skateboards. The youngest has two: a regular board and a longboard. I NEVER get on them, I haven't skateboarded since the early 1980's and I wasn't that good at it then. I am not a customer, but my kids could be. The thing that puts me off is the price. My son recently bought a car for a hundred bucks more than the M1!
That said, urban dwellers wants cheap transportation. Similar products are selling well, including the oft criticized hover board. I know my kids, both the adult children and the young one, would LOVE to have one. My 12-year-old proclaimed it "AWESOME!" For that reason, I'm in.
Do Sharks get on board?
Successful Kickstarter products always have a shot in the Tank, especially when an early investor in Kickstarter is on the panel. Inboard is an interesting company; it's part technology, part cool. They have patents, sales, AND proof of concept, so that isn't a hurdle they need to jump.
The deal is made or broken with the valuation and their strategy going forward. If a Shark gets a good slice of the pie, there will be interest. Any one of the Sharks could make a bid – Lori is the only exception since she likes lower ticket items. Robert might have a conflict with Hamboards, too. That leaves Mark, Chris, and Mr. Wonderful. I wouldn't be surprised to see Sacca team up with either of those Sharks on a deal with Inboard.