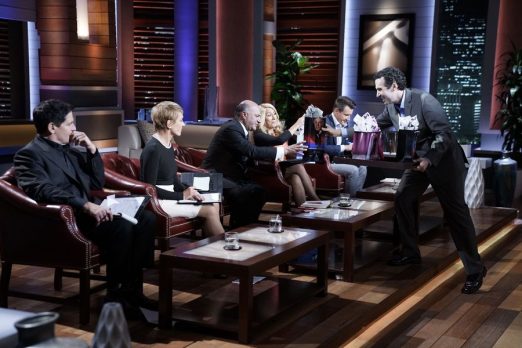 Charlie Williams and Brad Boskovic want to change the way people wrap gifts when they pitch Digi Wrap, their custom printing process that makes any tissue wrapping paper completely customized with virtually any image. They think companies will rush to have their logos printed on gift wrap to help with building brands. Individuals can get custom tissue paper wrap too. A gift wrap company is a perfect addition to the Shark Tank Holiday Special.
People exchange gifts billions of times a year. Making the wrapping more memorable appeals to many gift givers – as evidenced by the $3.2 billion a year spent on wrapping paper. While Digi Wrap is just a start-up, they own the patent on the process that prints on tissue paper. They sell to "traditional" outlets now, but they want to get into the mass market.
Currently, the only place consumers can buy Digi Wrap is on their website. Since they use the HP Indigo Printing Press for their printing, they could license their technology to millions of stores and resellers. Imagine printing tissue paper at a kiosk, like you do with photos in many locations. They likely want a Shark to give them a gift of an investment.
My Take on Digi Wrap
Like anyone else, I wrap my fair share of gifts every year. I use a lot of gift bags. In fact, I re-use a lot of gift bags – there are 10-year-old gift bags in our house! Since I use gift bags, I use a lot of tissue paper. I suppose I'd spend a few bucks for some personalized gift wrap.
It would be cool to have a photo or logo I created on my gift wrap. I am sure many companies would spend money to brand their business too. It makes a ton of sense for Hallmark to sell branded tissue paper, other companies will surely follow suit. For that reason, I'm in.
Will Sharks wrap up a deal?
Whether Digi Wrap gets a deal or not depends on how they present their business. If they want to continue to produce wrapping paper for customers, I don't think the Sharks bite. If they plan to license their technology, they may get some interest. The value of the business is the technology. Thousands of machines printing custom tissue paper all over the country is a much better business model.
If they present the second business model and the valuation is good. They should field multiple offers.