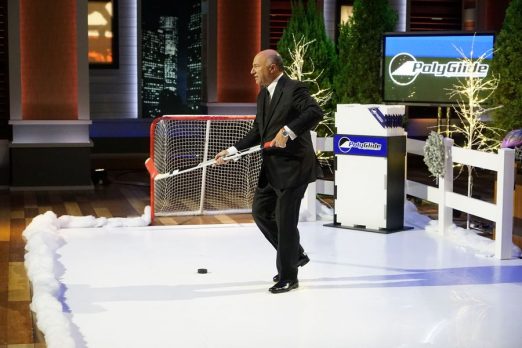 Jim Loughran wants the back yard skating rink in any location, which is why he's pitching Poly Glide to the Sharks in the Shark Tank holiday special. Nothing invokes images of winter and the holidays like people ice skating. The problem is, in most of the USA, outdoor skating rinks are either impossible or only available seasonally. Poly Glide, a synthetic ice rink kit, lets people put a skating rink anywhere, indoors or out.
The system is a set of synthetic ice sheets, made from a proprietary "beaded" polymer, that snap together to form a skating surface. Customers can custom design a skating surface, too. This allows the budding hockey player, curling enthusiast, or figure skater to practice any time they feel like it.
Loughran probably wants a Shark to help him with getting into retail outlets.
My Take on Poly Glide
When I was growing up, hockey was king. Bobby Orr was in his prime and Robbie Ftorek, who lived in my town, was a local kid who got drafted by the Detroit Red Wings. EVERYONE in my town played hockey! When I wasn't at one of the three leagues I played in, I was skating in one of a number of ponds and back yard rinks in my neighborhood.
Every winter, my dad took large sheets of plastic in a wood frame and flooded it with water. When it got below freezing, we could skate right in the yard. We also had many pick-up hockey games. Once it got warmer, our rink was gone and we went out and played baseball.
I haven't been on skates in years, and I'd be hard-pressed to find a place to skate in Florida. If I was inclined, I could have a back yard rink with PolyGlide. It also solves the problems of my youth. There are a lot of hockey and ice skating enthusiasts that would love this. For that reason, I am in.
Do Sharks Put a Deal on Ice?
There are other synthetic ice surface companies out there. Poly Glide "offers more synthetic ice surface per square foot and less seams." The Sharks, before they even get to valuation, will want to know that. In the promo photos and video for this episode, Robert and Kevin lace up some skates and try it out. They'll have to "testify" to the other Sharks that it feels like real ice.
If the Sharks like the product, they'll need to hear a solid plan for growth from Jim. There are only so many customers for this product – it doesn't have mass appeal, so Lori won't bid. I don't think Barbara will bid either. Mark could bid if he sees a broad application, but he'll probably be out. Robert likes sporting goods businesses, and he's Canadian (so he likes hockey); he may bid. Mr. Wonderful, who's been very aggressive in season 8 bidding, may make an offer, too.