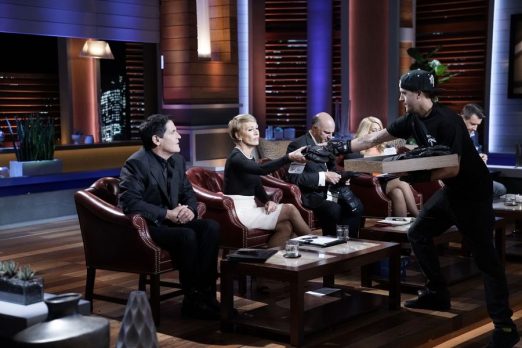 Jake Sullivan and Don Wildman – the oldest competitive Ironman triathlete in the world – seek a hand out from the Sharks when they pitch Hand Out Gloves in the Shark Tank Holiday Special. Winter is synonymous with holiday scenes and winter means gloves and mittens. Whether you're out for a leisurely winter stroll, shoveling the sidewalk, or engaging in winter activities, you need gloves or mittens.
Sullivan got the idea for Handout Gloves while fumbling with his gloves on ski lifts. Hands get heated up while skiing or snowboarding and he wanted a way to cool off his hands without worrying about the dreaded dropped glove. He also wanted an easy way to get his fingers out so he could operate his smart phone.
The solution to Sullivan's conundrum was Hand Out Gloves – gloves designed to make it easy to get your hand out, without taking them off. Basically, the gloves (or mittens) have a heavy-duty zipper that frees the fingers without removing the gloves. This allows for cooling and dexterity while operating that smart phone. He sells them in some ski shops and at ski and snowboard shows for anywhere from $40-$120. He likely wants a Shark's help with distribution and sales.'
My Take on Hand Out Gloves
I owned a similar product until a year ago (I happily donated all my winter wear to Goodwill when I moved to Florida). I had a pair of heavy wool gloves and the fingers folded back. They were secured by Velcro. While I wouldn't call those gloves suitable for skiing, they were handy while shoveling snow or walking outside.
Sullivan's gloves are more heavy-duty. They're designed for outdoor sports and activities like hiking, skiing, snow boarding, etc. If I still engaged in those activities, I'd want a pair of Hand Out Gloves because I dropped gloves off ski lifts in the past while fiddling with a snack and it's a real pain. For that reason, I'm in.
Do Sharks give Hand Outs?
There's no doubt the gloves are thoughtfully designed and well made. The concept, while not new, is still innovative. The question/objection the Sharks will have is: is this a product or a company?Sullivan needs to demonstrate that he's more than a glove company if he wants offers.
If he has plans for expanding the brand, he could see an offer or two. If he just wants to sell gloves, the Sharks will politely decline.