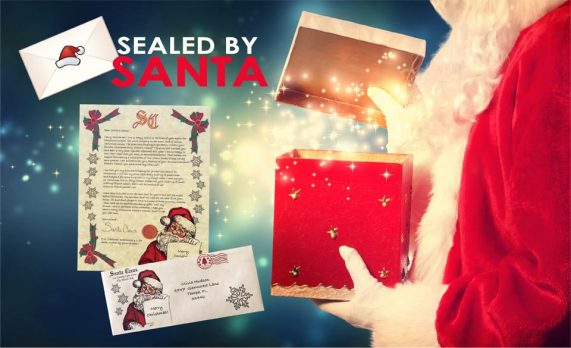 Nothing says "Christmas" like Santa Claus and Sarah Blain has her business, Sealed by Santa, a company that sends children a letter from Santa, in the Shark Tank for the 2016 Holiday Special. Blain takes an old concept – the traditional letter from Santa – and brings it into the 21st century, complete with video! Instead of a hastily scribbled note written by parents after midnight, Blain sends an elegant looking letter, personalized for your child, written in fancy fonts on aged parchment paper. The postmark is from the North Pole, too.
Parents choose from about a dozen letter themes – there's even one for teens – and can add items like an "evidence kit," ornaments, Santa's secret key, even reindeer food. Letters are $10.95, all other items are under $30. To date, she has a lot of customers and the reviews are nearly unanimous: Sealed by Santa is a hit.
There are many other businesses that deliver a letter from Santa at Christmas time, one company began the practice in 1952. Pricing for other companies is in line with Blain's pricing; some are a bit higher, some are lower. With so much competition in the Santa letter business, Blain probably wants a Shark to inject some "Shark Tank Effect" (along with some Christmas spirit) into her business.
My Take on a Letter From Santa
I did the Santa thing for years. With a 12-year-old in the house, this is probably our last year for Santa, at least until grandchildren come along. Like many other parents, I wrote countless late night letters from Santa and left "evidence" like an empty glass of milk and cookie crumbs along with the all important note.
When we lived in the Boston area, there was a local woman in Framingham who took all the letters addressed to Santa from the local post office and answered each one. She used a combination of handwriting and a Xeroxed sheet with "stock" verbiage. While her letters weren't as fancy as Blain's, the effect was the same with the kids. They LOVED their letter from Santa.
Since I am a sentimental sucker at Christmas time and I know the magic a personalized letter can bring, I am IN with Sealed by Santa.
Do Sharks play Santa and Invest?
This pitch is a meatball over the plate to get a deal. This isn't a complicated business, but it's a business that has a huge pool of customers each year. The Sharks would be Grinchy if they give Blain a hard time. It may not have the potential for tens of millions in sales, but getting a Shark on board would boost sales for years to come.
The valuation is key. If Blain is smart, she'll come in with a sub-$100K ask for a reasonable equity split – something around 20%. While giving up a big slice to a Shark may cut her margins, she'll more than make up for it with increased exposure. Lori could take this to QVC and blow it up overnight. Any other Shark would add good marketing clout to this business, too. I predict Sealed by Santa rides out of the Tank with a sleigh full of cash!