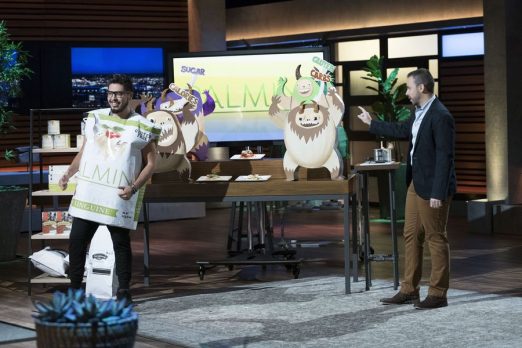 Alfonso Tejada hopes to bring healthy eating to the Shark Tank when he pitches OA Foods, a line of healthy side-dishes, in Shark Tank episode 922. OA Foods has three main products: Quinoa, Chia and Palmini. All three products are healthier alternatives to pasta or rice.
Quinoa is a grain-like product that is in the chard family. It's more like eating chard or spinach than grains. Quinoa has 70% carbohydrates and 15% protein, it's gluten-free, it's packed with minerals and has nine essential amino acids. It's truly a super food and it is a staple of vegetarian diets – though carnivores like it too. Chia seeds have been eaten for thousands of years. They're loaded with omega acids, calcium, magnesium and iron. They're high in protein and fiber too. Perhaps the most popular product from OA Foods is the Palmini. It's a pasta-like pasta substitute derived from hearts of palm. Palmini has only 15 calories per serving and it's gluten-free. It's their newest product.
Tejada started the business in 2012 as an extension of his family's business which sells farm equipment to Bolivian Quinoa farmers. With this existing relationship, he was able to efficiently source quinoa for sale and consumption in the USA. OA Foods helps small Bolivian farmers with their patronage and, since Bolivian Quinoa is the biggest in the world, he provides customers with the best products.
That attitude and way of doing business goes for all their products. In 2013, they added the Chia seeds and in 2107, Palmini was born. The company donates 20% of profits to help charities that assist Bolivian children and Syrian refugees in the Middle East. The products are readily available on Amazon. A single-serving can of Palmini runs $4.49. The Quinoa and Chia seeds are available in bags from 10 to 50 pounds for $37.99 to $77.99 per bag. Tejeda likely wants help getting into supermarket chains as his experience is in logistics and importing. Will a Shark eat these healthy foods?
OA Foods Company Information
Video

Posts about OA Foods on Shark Tank Blog
OA Foods Shark Tank Recap
Alfonso enters the Tank seeking $300,000 for 10% of his business. He has a humorous pitch with cardboard cutouts of gluten, carbs, calories, and sugar – pasta's "bad crowd." When a guy dressed as a can of Palmini, the Sharks howl with laughter. By the time the pitch is over, the Sharks really want to try it. He hands out three dishes with different sauces for each Shark. Lori and Bethenny really like it; so does Mark. He sold $400,000 of the quinoa for the year (2017) but only $50,000 of the Palmini because he ran out of product.
He has a special machine that "shreds" the hearts of palm. Bethenny is concerned big companies will come in and knock him off and she's the first Shark to go out. Daymond thinks big companies will get involved if these products get hot; he's out. Robert doesn't buy in to vegetable pasta; he's out. Mark and Lori both love it and team up to offer $300,000 for 30%. Alfonso counters with 18%, then 20%. Mark and Lori counter with 25% which Alfonso accepts.
OA Foods Shark Tank Update
The Shark Tank Blog constantly provides updates and follow-ups about entrepreneurs who have appeared on the Shark Tank TV show. The deal with Mark and Lori never closed. The products are available at Publix, Whole Foods, Albertsons, Kroger, Amazon and more. In 2018, they introduced pouch packaging that allows for up to 1.5 year shelf life. They also "neutralized" the taste to make it taste more like pasta. As of October, 2022, the company is still operational and earns $4 million in annual revenue. It is the number one selling pasta alternative on Amazon.