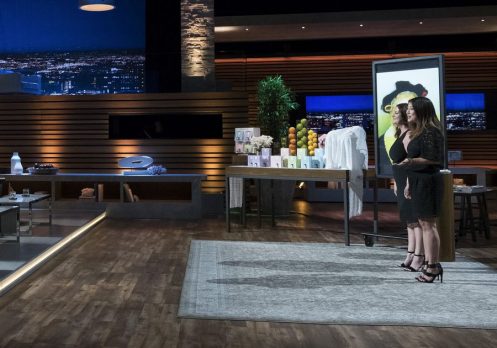 Mariella Scott and Anita Sun Eisenburg hope the Sharks lace 'em up and invest in Lace Your Face, their skin care masks, in Shark Tank episode 922. Eisenburg, a Medical Esthetician, and Scott, a serial "beautyprenuer," got together in 2014 to form Dermovia, the company that makes and markets Lace Your Face.
Anita used cotton gauze to help heal burn plastic surgery patients' skin after treatment. The gauze helped keep skin compressed while delivering nutrients and retaining moisture. It also helped draw out excess material out of pores. When they decided to start Lace your Face, they developed a lace-like absorbent stretch cotton gauze that did what her surgical treatments did while looking feminine and elegant.
The Dermovia line of Lace Your Face products includes 8 different masks for a variety of skin conditions. There's an exfoliating mask, a hydrating mask, a pimple popper mask kit containing four different masks for weekly application, and other masks for a variety of skin conditions.
Each mask can be used twice. Simply put it on according to directions and leave it there for 15-20 minutes. Once done either save or throw away your mask and rub the remaining material into your skin. A set of four or five masks costs $55 and they're available on Amazon. They likely want a Shark's help getting more off-line distribution. Will a Shark want to wear this mask?
Company Information
Video

Posts about Lace Your Face on Shark Tank Blog
Lace Your Face Shark Tank Recap
Mariella and  Anita Enter the Tank seeking $350,000 for 10% of their business. they give their patch and the Sharks chuckle because the masks look silly on the women. They give out samples and Robert pretends he's a bank robber with his. It costs $15 to make a 4 pack that sells for $55. Lifetime sales are $1.3 million with $750,000 coming in last year (2017). They are Nordstrom's Barney's and other department stores and Amazon. They have four patents: a design patent on the masks and three utility patents.
Robert sees too many challenges and is the first Shark out of the deal. Mark says he doesn't know enough about these kind of products; he's out. Bethanny offers $350,000 for 30% contingent on getting the 4-pack down to $39.99. Daymond says he knows nothing about the health and beauty space; he's out. Lori thinks people won't buy it unless it becomes a bigger brand; she's out.
They tell Bethanny they have a 1 million unit offer and counter with $350,000 for 15%. When Lori hears about the million unit order, she says she'll do the 15% deal. They agree!
Lace Your Face Shark Tank Update
The Shark Tank Blog constantly provides updates and follow-ups about entrepreneurs who have appeared on the Shark Tank TV show. The deal with Lori closed. In 2018 they introduced dry masks and their Skin Cycle brand of lotions, serums, cleansers and scrubs. They also changed the name of the business to Dermovia. As of July, 2023, this company is doing $4 million in annual revenue.