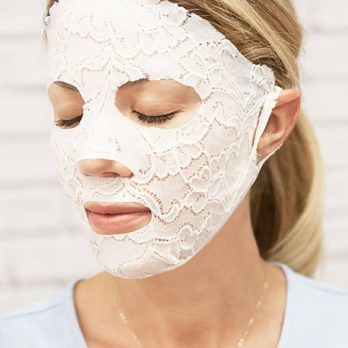 When Mariella Scott and Anita Sun Eisenburg started Dermovia, they wanted to make a facial mask that took off as much as it put on. Eisenburg worked with burn victims and constantly applied compressed cotton gauze to burns. The gauze "delivered" whatever medicine was applied to it while keeping the skin moist and drawing material from the pores.
When Eisenburg and Scott got together, they wanted to create a facial mask product that mimicked cotton gauze while looking good. The result was the first product Dermovia produced: Lace Your Face. The 'lace" is actually very similar to cotton gauze. Dermovia delivers 9 different facial treatments with Lace Your Face. Whether you want a facial hydration, exfoliating or clarifying mask, they have a product for you. They also combine several products into "kits" for specific results, like the Dr. Pimple Popper Clear Complexion Kit.
It appears as if the product has decent sales, but they're all online. They cost $55 per pack of four or five, but each mask can be used twice. The women likely want a Shark to help them with more offline sales. Will a Shark lace 'em up and invest?
My Take on Dermovia and Lace Your Face
Facial masks account for over $70 million in cosmetic-related sales in the USA. It's not a small number, but there are literally hundreds of facial mask products on the market. It's crowded to say the least.
While I'm not a big consumer of facial masks, I do use them. I occasionally do a cucumber mask on my skin to tighten it up and moisturize (Florida does a number on your skin). I also tried Nardo's Natural Clay Mask a few times. I'm not sure if I'd run out and buy one of the Dermovia masks, but I wouldn't rule out trying it.
Do Sharks Lace 'em Up?
The problem Lace Your Face has is it's a crowded, niche market they're trying to break into. Believe it or not, $70 million in sales for a product niche isn't much in a Shark's eyes, unless you dominate the niche. Lace Your Face can't possibly be dominating, so that makes it hard for them to get a deal.
The product is geared toward women, so maybe Bethany or Lori will see value where I can't. It's going to be a hard sell to get Mark, Robert or Daymond interested, unless sales are HUGE. Lori and Bethany might think otherwise, particularly if Lori feels it will sell on QVC. I'm betting there's no deal for Dermovia, but a two Shark deal with Lori and bethany is a long shot.