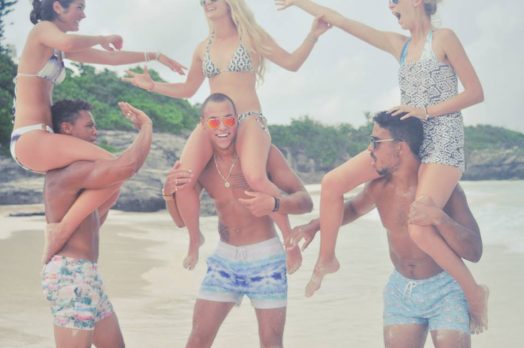 Uki Deane created Bermies swim suits because he didn't like what was available in the market for the price he was willing to pay. Cheapo bathing suits weren't comfortable and comfortable bathing suits were too expensive. Deane is a beach enthusiast who'd rather spend the day hanging out in his bathing suit enjoying the water. When you have that kind of lifestyle, it's natural to want to create a lifestyle brand. And that's just what he did.
Bermies swim suits are inspired by Bermuda. In many parts of the world, shorts are simply called "Bermudas." That's where Deane got his company name and the inspiration for the styles his suits come in. There are no bland bathing suits here. Wild, colorful patterns with sea turtles, fish and other aquatic themes are the order of the day at Bermies.
Comfort is just as important as style for Deane. Bermies swim suits are 90% polyester and 10% lycra for a quick-drying, non-chaffing bathing suit experience. The Kickstarter crowd liked Deane's vision and invested almost $29,000 to get the business going. There are two men's styles and two bikini styles for the ladies. A men's suit costs $50 and a bikini is $30. Deane's off to a good start, but he knows a Shark would be a great addition to his team. Will a Shark invest in episode 922?
My Take on Bermies Swim Suits
I wear a "bathing suit" almost every day, but I don't go for fancy, expensive stuff. I usually wear basketball shorts and go commando! It's been a number of years since I bought a "traditional" bathing suit. I don't like the feel of most suits. That said, I'd try a pair of Bermies if they're as comfortable as advertised.
Most "bargain" men's swim suits run $15-$20. Expensive ones go north of $100. I never had a real expensive suit, but I had plenty of the bargain ones. That's why I wear basketball shorts! $50 is a tad pricey for me for a bathing suit, but if it lasts, I could justify spending that much (most cheap suits last one season). While I probably won't rush out to buy one, I am in,
Will Sharks Wear These Pants?
I'm thinking Bermies gets a deal. As I write this, their website is under re-construction. Certainly a bathing suit business appearing on Shark Tank at this time of year would want a robust site. Most bathing suits in the USA are purchased February through May. With this episode originally airing at the end of February, Deane will likely make lots of sales. But a total re-design often smacks of Shark involvement. Which Shark will it be?
Mark Cuban has a successful, beach lifestyle branded business in Tower Paddle Boards. Bermies swim suits would fit in well with those customers. Robert's Sandcloud investment (beach towels) fits nicely too. Daymond is the apparel Shark so he's a potential candidate too. Lori and Bethany are wild cards. I'm betting Mark or Robert partners with Deane, I'm just not sure which one.