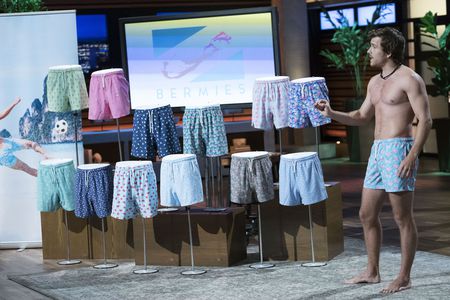 Uki Deane seeks an investment in Bermies, his line of men's swim trunks inspired by the colors, crystal clear waters and pink sand beaches of Bermuda, in Shark Tank episode 922. Deane loves the beach and outdoor water sports. He wasn't happy about the quality of men's swim trunks at an affordable price. Like any self-respecting entrepreneur, he decided to make his own!
He got his "lifestyle brand" off the ground with a successful Kickstarter campaign that raised $28,959 on a $10,000 goal back in the first quarter of 2016. Deane wanted to make a swim trunk that was comfortable to wear in or out of the water. Bermies are 90% polyester and 10% lycra. The fabric makes them light, comfortable, quick-drying and non-chaffing.
Bermies are stylish, too. There are two varieties: The Classics which are a bit shorter than traditional board shorts, and The Originals, which are slightly shorter than The Classics. Both styles come in a wide variety of colors and patterns that include everything from anchors to sea turtles. He added a woman's bikinis recently that includes a Classic line for a "subtle yet sexy" look and a Cheeky line that has "sass and style." Men's trunks cost $49.99 and bikinis cost $29.99.
Deane wants to help the oceans he loves to play in, too. 10% of all profits go to non-profit organizations that help preserve coral reefs, clean up oceans and protect marine life. Bermies wants to be a "lifestyle brand" that defines "coolness" in beachwear. He wants a Shark's help building that brand and spreading the word. Will a Shark wear these trunks?
Bermies Company Information
Video

Posts about Bermies on Shark Tank Blog
Bermies Shark Tank Recap
Uki enters seeking $200,000 for 20% of his business. He's wearing nothing but a bathing suit as he tells his story and gives his pitch. He invested his life savings into the business! When he gives the Sharks samples, they marvel at the quality. They cost $49 each and cost$9.80 to make. Daymond says he should be at $6.50 and Uki says he can get there with volume.
His first year in business was 2016 and he did $271,000 in sales. Sales through September, 2017 are $300,000. His challenge is inventory. He's a one man show now and he needs help to get to the next stage. Mark thinks he needs to do more than 20% of his sales online. Uki agrees, but Mark says he's not there yet and is the first Shark out. Daymond says he's all over the place; he's out. Lori loves Uki's passion, but swim suits are a crowded space; she's out. Robert feels Uki didn't spend enough time talking about the business side of things; he's out. Even though Bethanny likes Uki, she's out too, echoing the other Sharks' concerns.
Bermies Shark Tank Update
The Shark Tank Blog constantly provides updates and follow-ups about entrepreneurs who have appeared on the Shark Tank TV show. Despite not getting a deal, Uki was able to grow his business. The swimwear is now made from recycled plastic bottles. He also added Hawaiian shirts, pants, shirts, lounge pants, hoodies and jackets to the line. As of August, 2022, he now has five employees helping him and has annual revenue of $4 million. Lifetime sales are over $50 million.