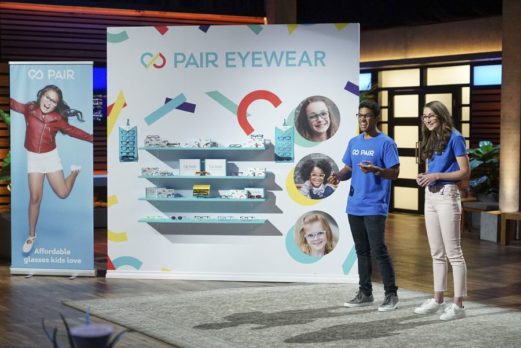 Nathan Kondamuri and Sophia Edelstein hope the Sharks see the light and invest in Pair Eyewear, their line of children's glasses, in Shark Tank episode 1106. The pair went to Stanford together and did a lot of research before starting the business. Nathan always wore glasses and didn't find it an enjoyable experience. He thinks glasses should be fun, but he always viewed them a "just a medical device."
They realized kids glasses are too expensive and wanted to disrupt the space a bit. After interviewing hundreds of families, they realized parents wanted a more economical option and kids wanted glasses they could change up. Nathan and Sophia brought on a former Warby Parker products guy and launched Pair Eyewear in early 2017. They sell five styles of base frames for kids for $95 a pair. For another $35, you can buy customized clip on frames that attach to the glasses, giving them a completely different look. They also sell sunglasses with the same stles and features.
Instead of shipping five pairs of glasses, Pair ships cardboard replicas to customers so they can choose a style; this eliminates the hassle of shipping unwanted frames back to the company. Like Warby Parker, Pair donates a pair of glasses for every pair sold to The Eyelliance, a nonprofit organization that provides glasses to kids in the developing world.
So far, they've already raised $1.15 million in venture capital. Warby Parker, noting Pair Eyewear's success, has started offering kids glasses, so they'll need to capture market share quickly. They'd like a Shark's help with that.
Company Information
Video

Posts about Pair Eyewear on Shark Tank Blog
Pair Eye Wear – Customizable Kid's Glasses
Pair Eyewear Shark Tank Recap
Nathan and Sophia enter seeking $400,000 for 10% of the business. They explain the product and hand out samples. The entrepreneurs impress the Sharks, but there is a lot of concern about the number of other investors and about the huge amount of competition in the eyewear business. The Sharks like the concept though.
Lori and Katrina want to make an offer, but they are still concerned with competition. They're also concerned with the amount of other investors. The two Sharks offer $400,000 for a 10% PLUS a $1.50 per pair royalty until their investment is recovered. Nathan and Sophia take the deal.
Pair Eyewear Shark Tank Update
The Shark Tank Blog constantly provides updates and follow-ups about entrepreneurs who have appeared on the Shark Tank TV show. Since airing in early March, 2020, the nation has been in lockdown due to the Covid-19 pandemic. Since then, the company introduced a new Future is Bright Collection and Hearts of Hope Collection. All net proceeds from these two collections will be used to support children affected by COVID-19 by providing them with food and books.
In a counter move to Warby Parker, Pair now offers adult glasses too.
Lori does not list the business on her website, but the company is saying the deal went through.