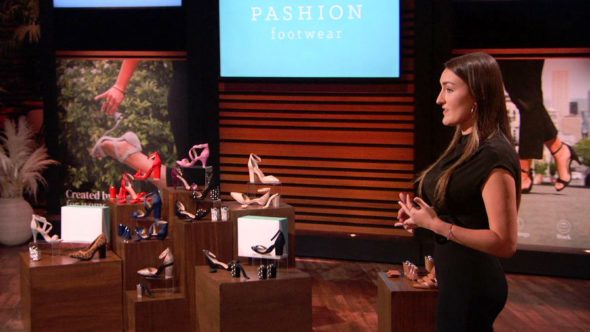 Haley Pavone seeks a fit for Pashion Footwear, her heels that convert to flats, in Shark Tank episode 1214. Haley started the company as a sophomore out of her Cal Poly San Luis Obispo dorm room in 2016. She got the idea while out dancing in her heels. When her feet started to hurt, she took her shoes of and immediately got her toes stepped on. The next day she got to work figuring out how to make a heel that converts to a flat.
She found that high heels are the number one cause of foot pain in the USA. She built a team and started making shoes. Haley got going by winning Cal Poly's Annual Elevator Pitch Competition. Next, she won $15,000 at the annual Innovation Quest competition and got accepted to the SLO HotHouse Summer Accelerator program, a startup boot camp at Cal Poly.
She spent the next two years raising $1.7 million and obtaining 30 patents. The heel comes off with a simple twist and the removable arch flattens out the shoe. There's a rubber sole that attaches to the bottom of the shoe when worn as a flat. A full shoe set costs $165 and comes with two shoe soles and two heels, two removable arch supports, rubber heel caps to protect the shoes while worn as flats and a drawstring bag to store everything. So far, she's sold over 3000 pairs of shoes and is growing at 50% monthly. She's hoping a Shark can help her blow up that growth.
Company Information
Video

Posts about Pashion Footwear on Shark Tank Blog
Pashion Footwear Shark Tank Recap
Haley enters the Tank seeking $500,000 for 5% of her business. She hands out samples and tells her story. The Sharks are intrigued by the design and impressed with the $800,000 in sales she's accrued in a year. They don't like the fact she's burning cash and has a high return rate. The Sharks are also concerned that she has other investors.
Despite the grim outlook, she gets an offer from Kevin. He offers $500,000 for 5%. He also wants a $5 royalty per sale until he recoups $1 million, then the royalty goes away. It's the only offer on the table and Haley rejects it.
Pashion Footwear Shark Tank Update
The Shark Tank Blog constantly provides updates and follow-ups about entrepreneurs who have appeared on the Shark Tank TV show. The business is still open and just a few weeks after the original air date, Haley raised an additional $1 million, bringing the total raised to $3.5 million. She also announced that the shoes will be customizable by the summer of 2021.
In January, 2022, Haley was named to the Forbes 30 under 30 list for retail commerce. In March, 2023, Haley received a utility patent for the shoes in Europe and China. She also raised $481,365.33 on StartEngine. As of July, 2023, the business has annual revenue of $3 million.