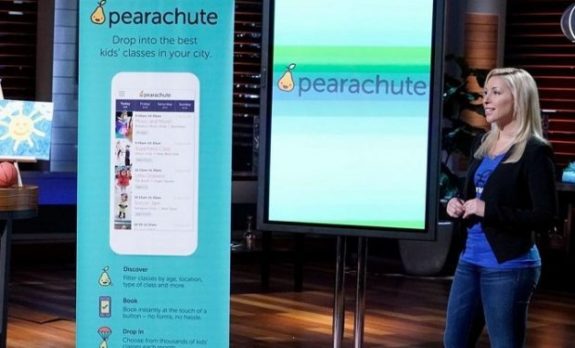 Desiree Vargas Wrigley hopes too land a deal for Pearachute, her monthly subscription business that connects parents with the best local kids' classes and activities, in Shark Tank episode 821. Prior to founding Pearachute, which has been in business less than a year, she founded GiveForward, one of the first crowdfunding sites ever. That business was acquired in March of this year (2017).
The business is based in  Chicago and offers discounts on kids' activities – sort of like a Groupon for kids but with a subscription model. The secret sauce is you don't have to commit to any one class, activity or camp for more than one event or day and you can "bail out" up to an hour ahead of time. Subscriptions cost $79 per month for 5 classes or $99 a month for unlimited classes.
Whether you want a discount on karate lessons or a summer camp or just want to do an activity for a day, Pearachute wants to be the go to business. She founded the company after becoming frustrated with having to scramble to do activities or having to cancel things at the last minute. Parents pick activities by age of the child, time of the activity and categories like art, dance, sports and more. She's hoping a Shark will take a dive with her and invest.
Pearachute Shark Tank Recap
Desiree enters seeking $500,000 for 6% of her business. She explains her business and tells her story, then the questions come. In about four months of being in business, she's done $50,000 in sales. She has 30 partners that provide activities for her platform. Currently, they are only in Chicago, but she plans to expand to other cities.
When she can't articulate how she's going to expand, Kevin goes out. Barbara doesn't think she's a true entrepreneur, she goes out. Sacca says he'd use a service like this, but he's not an investor, he's out. Lori quickly follows, leaving only Mark left. Mark offers $500,000 for 20% of the business. Desiree counters with 15% and they do the deal.
Pearachute Shark Tank Update
The Shark Tank Blog constantly provides updates and follow-ups about entrepreneurs who have appeared on the Shark Tank TV show.  The deal with Mark fell apart shortly before this episode aired. Apparently his team was nervous about the "newness" of the business. In the 24 hours following the original broadcast, she had more sign ups than the previous 3 months. Shortly after airing, Desiree announced Pearachute was in four more cities: Dallas, Kansas City, San Francisco and Washington.
Between 2019 and 2020, the company raised a total 0f $3.1 million from five different venture capital firms to fuel growth. In 2020, the pandemic forced the company to pivot to offering virtual experiences. As of June, 2021, the company is in cities in every state in the USA and has annual revenue of $1.3 million. It looks like the pandemic pivot didn't work out, Vargas closed the business in June, 2022. She now is the Chief Innovation officer at P33.
Company Information
Video