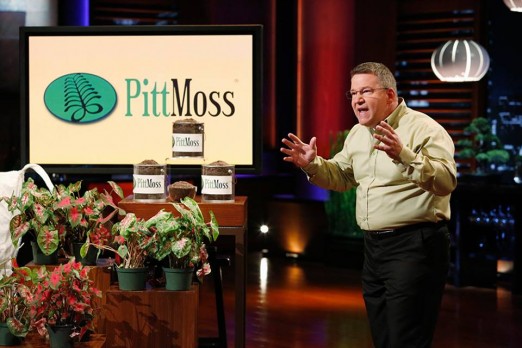 Mont Handley pitches PittMoss, his eco-friendly peat moss substitute made from recycled paper, in Shark Tank episode 627. Handley created the first batch of Pitt Moss back in 1994 and spent the next 20 years developing, testing, and proving the concept of a peat moss substitute. Throughout those years, Handley received grants from the EPA through their Small Business Innovation Research program and funding from The Idea Foundry, a Pittsburgh based business incubator focusing on socially responsible businesses.
Handley also had a number of Universities test PittMoss for everything from water retention to plant nutrient uptake. The result of his years of hard work was proof PittMoss is a viable peat moss substitute. Peat moss is commonly used in commercial greenhouses and by hobby gardeners throughout the world. The problem is, harvesting peat moss from peat bogs destroys wetlands and eliminates a hundred year's worth of growth in one harvest. Since peatlands store 33% of the world's soil carbons, losing peat to commercial harvest increases the amount of carbons released into the atmosphere.
PittMoss is made from recycled paper, so it's a renewable resource that doesn't threaten habitats. The extensive research Handley conducted is now paying dividends. PittMoss is available in the Eastern US to commercial growers. Handley likely wants to expand his commercial sales and break into the retail market. He's likely looking for a Shark to help expand his distribution channels and fund more production.
Will a Shark invest in Pitt Moss' growth?
PittMoss Shark Tank Recap
Mont opens with an at home segment where he explains the benefits of PittMoss. He wants his business to help make the world a better place. He enters the Tank seeking $600K for 25% of the business. After explaining the benefits of PittMoss over peat moss, he hands out the plants he brought grown in PittMoss. PittMoss is 20% cheaper than peat moss and is free of any contaminants.
Mont says he doesn't have sales because he spent all his time building the manufacturing facility. He can make 200 tons a year now, which is $60K per year in sales. He has $138K in orders which he can't fill. The strategy is to give 50 cubic feet of product to a commercial greenhouse and let them try it.
Barbara is too confused, she's out. Mont has other angel investors and Mark wants to know if he'll walk away from them if he gets a deal in the Tank. Mont says he would. Lori thinks sales are too low and the long education period is an obstacle, she's out.
Robert asks if any other Sharks will go in with him. Kevin offers $600K for 40%; Mont counters with 30%. Kevin, Mark, and Robert team up to offer $600K for 35% and Mont does the deal.
RESULT: DEAL for $600K for 35% with Kevin, Robert, and Mark
PittMoss Shark Tank Update
The Shark Tank Blog constantly provides updates and follow-ups about entrepreneurs who have appeared on the Shark Tank TV show. While the deal with the Sharks closed, Handley faced some production challenges out of the gate. Read about his progress in Beyond the Tank Episode 204.
After the Beyond the Tank segment taped, Mont stepped down as CEO and began volunteering at a food bank in Indiana. He retains a seat on the board. The company introduced animal bedding and potting soil products. It hasn't cracked the shelves in the Lowes and Home Depots of the world, but they are in hundreds of garden centers nation wide and they sell to commercial growers.
In March, 2021, the company raised $297,000 in an equity crowd funding on Republic. In June, 2021, the company announced it was going international and they would be opening a factory in Lebanon. They also announced plans to open 8-10 more US factories. As of October, 2022, annual revenue is $3 million. Their goal is to have $25 million in annual revenue by 2025.
Posts About PittMoss on Shark Tank Blog
PittMoss Company Information
Video