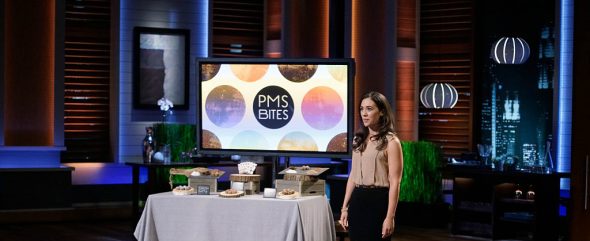 Tania Green hopes to partner with a Shark after they taste her PMS Bites, chocolate treats designed to "cure" PMS in women, in Shark Tank episode 726. She created PMS Bites when she decided to track her mood over a three-year period. She found her worst days were when she was suffering from PMS. After trying to enhance her well-being during PMS days with exercise, proper amounts of sleep, and healthy eating, she found she still craved sugary treats – which would often sabotage her healthy habits.
Green says, "Symptoms of PMS increase stress and physical discomfort. We [women] grab for comfort food, especially sweets, to cope." In order to satisfy her cravings for sweet treats, she went into the kitchen and created a chocolaty, all-natural, vegan, and gluten-free treat: PMS Bites. To get her product to the public, Tania launched a successful Kickstarter campaign, raising over $8,000 to secure a commercial kitchen space, design packaging, and market her product.
The cost is $14.99 (including shipping) for a half-dozen, ball-shaped bites. There's a ten percent discount if you order a monthly subscription package (delivered on the date you choose). There are currently three flavors: Plain Crazy, CocoNutty, and All Kinds of Nuts. Tania probably wants a Shark to help her break into mass market retail. Will a Shark Take a bite out of PMS Bites?
PMS Bites Shark Tank Recap
Tania comes into the Tank looking for an investment of $50,000 in return for 20% of the company. She presents the Sharks with samples of the Bites. All of  the Sharks agree that the Bites are tasty. Robert Herjavec gets right down to business, asking how many she's sold. Tania replies that she's sold $13,400.07. The Sharks chuckle at the specificity of her answer. She's currently working out of a commercial kitchen, and has made 7,500 Bites by hand. She's selling through retail stores. The Sharks are firing questions, and Tania has answers, but will her Bites hold up to Shark scrutiny?
Kevin O'Leary objects to the marketing, saying that the reference to PMS "cuts the market in half." The other Sharks quickly shut down his argument, pointing out that it's a brilliant marketing ploy. The wholesale cost is $4.50 for three Bites, and it costs Tania about $1.55 to make, providing her with a margin of 66%. Her numbers seem solid.
Lori Greiner returns to O'Leary's argument, and goes out because she feels that the marketing is too narrow. She's out. Robert Herjavec believes the numbers are just too small. He's out. Barbara Corcoran doesn't "feel the energy" from Tania. She doesn't think she's a saleswoman, and she goes out. Kevin O'Leary calls Tania "The Queen of Small Numbers." Like Robert, he's unimpressed with her sales so far. He's out, leaving Mark Cuban as the last Shark standing.
Mark believes PMS Bites is "all about social media." He wants to know what Tania's doing online. She responds that she's focused on retail. Mark is disappointed in her strategy, especially in light of her missed opportunity in Shark Tank – the Shark Tank effect normally drives web traffic, but PMS Bites lacks a web presence. Tania leaves the Tank with no deal.
PMS Bites Shark Tank Update
The Shark Tank Blog constantly provides updates and follow-ups about entrepreneurs who have appeared on the Shark Tank TV show. Once an episode has aired, we monitor the progress of the businesses featured, whether they receive funding or not and report on their progress.
Without a Shark backer, Tania is growing her PMS Bites company slowly. According to the website, the Bites are currently in 15 retail locations. She has taken the Shark's advice to heart and created a stronger online presence, including social media and a clean, crisp website advertising her dense, chocolate treats. There is very little mention of the herbal additions to PMS Bites on the site, perhaps in an effort to dodge the strict FDA rules regarding any claims of "treating" a condition.
PMS Bites is one sweet treat the Sharks refused to nibble, but the company appears to be slowly growing toward success. The company closed in February, 2018. Tania is now the Chief Marketing Officer at Healthworks Fitness in Boston.
Posts About PMS Bites on Shark Tank Blog
PMS Bites Company Information
Video