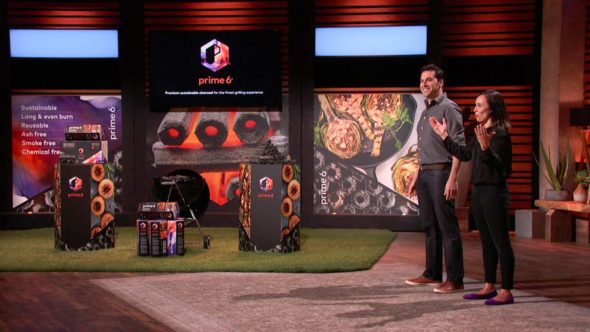 Oron and Riki Franco hope to cook up a deal for Prime 6, their sustainable premium charcoal, in Shark Tank episode 1206. They started the business in September, 2018. Riki , who graduated Columbia Southern University with an MBA in 2012 has some experience mentoring start-ups. Oron got his Culinary Arts degree from the International Culinary Center in 2010 and has lots of culinary experience. The husband and wife team love cooking – especially on the grill.
What makes this charcoal so special and sustainable is it's made from waste hardwood sawdust. They compress it and slow carbonize it into a hollow hexagonal design without any binders or additives. This makes for a denser, longer burning charcoal. The hexagonal design also allows for better airflow that lets it burn hotter and longer: 4-6 hours.  Because it's so dense, you don't need as much: one pound of  Prime 6 equals three pounds of lump charcoal. The result is a good charcoal experience with less clean up.
A 22 pound box of charcoal costs about sixty bucks. They sell on Amazon, Walmart.com and Lowes.com; they currently don't sell on their website. To put things in perspective, a 35 pound bag of lump charcoal will set you back fifty bucks, but that will yield about 12 uses. The Prime 6 box yields 22 uses, so it's a better value. While selling online is good, charcoal that's stacked right in the grill section of a store will sell better. They likely want a Shark's help getting into retail. Will the Sharks want to cook with this couple?
Company Information
Video

Posts about Prime 6 on Shark Tank Blog
Prime-6 Charcoal – Eco Friendly Grilling
Prime 6 Shark Tank Recap
Oron and Riki enter seeking $200,000 for 10% of their business. They tell their story, hand out samples and start a dialogue. The Sharks like the fact that they already have a presence in WalMart. They also like that it's patented. What impresses the Sharks the most is the couple's determination and hustle. They sold $300,000 just by cold calling and they recently secured a large order from Lowes.
Lori and Mark have what they feel is a conflict of interest due to their involvement with Instafire. They're out. Both Daymond and Kevin offer $200,000 for 25% and they pick Kevin because he wants to grow online sales which is more in line with their vision for the business.
Prime 6 Cup Shark Tank Update
The Shark Tank Blog constantly provides updates and follow-ups about entrepreneurs who have appeared on the Shark Tank TV show. The first re-run of this episode is just two months after the original air date. The company is still running, but there is no evidence the deal has closed yet.
Even though this business isn't listed on Kevin's website, the company gets a "how we got through the Covid-19 pandemic with Kevin's help" update in episode 1219.
As of July, 2021, they have their product in Western Beef, Piggly Wiggly, The Fresh Market, Krogers, Lowes, Wal Mart, Albertsons and many other major retailers. Reliable revenue figures are unavailable at this time.