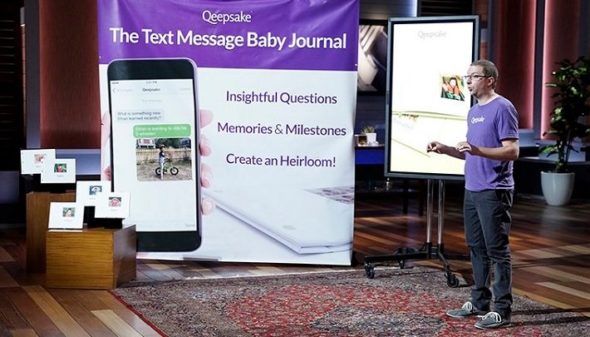 Jeff McNeil hopes for a deal for Qeepsake, his digital baby journal platform, in Shark Tank episode 821. McNeil used his skills as a web designer and developer to create the platform. He's been doing web design since graduating from Hampshire College in 2004. His wife, Stephanie, a nurse by profession, co-founded the company with him.
Making a baby journal is something many parents aspire to, but just don't have the time to do, especially when you have five kids – like McNeil (and me)! Qeepsake harnesses the ubiquity of text messaging to make journaling easy. Every day, it sends two questions to your phone about your baby's development. You simply answer the questions and include a photo and the AI of Qeepsake creates a digital journal for you which you can go in and edit. When you're ready, you can print out a book about it.
There are two subscription plans: one is $40 a year and sends two questions a day, the other is $90 a year and send 4 questions a day. You don't need to be prompted, either. If your child hits a milestone, like losing his first tooth, you can text the platform with a picture and a note. Jeff has the platform developed, now he wants a Shark's help taking it to the masses.
Qeepsake Shark Tank Recap
Jeff enters the Tank seeking $350,000 for 10% of his business. He explains how everything works then produces books to show to the Sharks. The books are printed versions of the online journal. The books cost $29.99 to $44.99, depending on how long they are. They only sold four books so far, it's more of a sideline, but it's something they want to do more of in the future. To date, they have over 40,000 active users and they are converting 16% to the subscription model. In four months, they have $250,000 in revenue.
Barbara doesn't know how she could help scale the business, she's out. Kevin offers $350,000 for 20%. Mark thinks there will be a lot of competitors once Qeepsake gets popular, he's out. Lori doesn't think she's the right partner for Jeff, she's out. Jeff asks Kevin if he'd go to 12%. Chris offers $350,000 for 20% and Jeff counters with 14%. Kevin is insulted by that and goes out. Chris won't move off the 20% mark and Jeff declines the deal.
Qeepsake Shark Tank Update
Just after airing, Qeepsake raised $900,000. They had over 100,000 users, too. Remember, this was a season 8 show that didn't air until season 9, so there was at least a year and a few months between taping and airing – a lot can happen.  The company also developed an app to make things easier on users.
2021 was a very eventful year for this company. In June, 2021, Punchbowl invested in the company and Punchbowl CEO and Founder Matt Douglas was appointed to the Qeepsake Board. August, 2021 saw them partnering with huge baby formula maker Enfamil in their Premium Family Beginnings program that offers Enfamil customers special deals on baby products. They also partnered with Project Sweet Peas, an organization that helps bring awareness to premature births, in September, 2021. In November, 2021, the company was named one of the "Best Preschool Products" by the Parents' Picks Awards. They were also named a Gold Award Recipient by the Mom's Choice Awards and were given the Seal of Approval by Parent Tested Parent Approved. At this juncture, they are doing $2 million in annual revenue.
In February, 2022, the company introduced a video feature. According to the press release, "the Qeepsake Video feature is currently available for Premium Members who can easily upload unlimited videos directly through the app and revisit the memory in their digital Qeepsake Journal."
In August, 2022, Tracy Cho, former general manager at Recurrent Ventures, was named CEO of the company and she promptly raised $2 million from LaunchCapital. According to a news release, "Cho plans to build a Content Marketing team and launch a rebrand that will enhance the brand's relevance to parents today." Jeff McNeil will now be CEO.
As of February, 2023, the company has around 700,000 users. That puts annual revenue north of $60 million.
Company Information