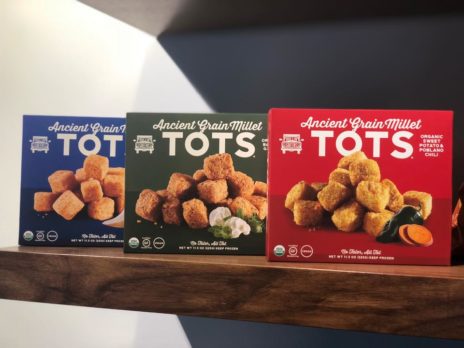 Ryan and Lindsey Cunningham give the Sharks a taste of Rollin Greens, their vegan "chicken wings and tater tots," in the Shark Tank season 11 finale, episode 1122. Ryan comes from a culinary family. His parents opened the first organic food truck in Boulder, Colorado back in 1980. When their fourth child (Ryan) was on the way, they shut down the business and moved on to other things. In 2011, Ryan and Lindsey reopened the business and kept the old name: Rollin Greens.
Ryan was a personal chef who went by the name Chef Ko. He and Lindsey served a variety of healthy meals, but one of the most popular items were the millet tots. Millet is an ancient grain that's grown all over the world – including Colorado. It's dense in protein, which makes it a good food for the vegan community. After five years of running the food truck, they shut it down and started selling the millet tots in packaged form. They come in three flavors: Onion & Sea Salt, Basil & Garlic, and Sweet Potato & Poblano Chili.
Soon there after, they launched their cauliflower "chicken wings." They also come in three flavors: Teriyaki, Spicy Green Buffalo and Sweet Mustard. They're in many major nationwide super markets including Whole Foods, Wegman's and many more. If you buy them online, they're quite expensive: a six pack of 11.5 ounce tots is $72.
The Cunninghams are looking to expand their line. With the growing interest in plant based diets, they see an opportunity for their products to reach a bigger audience. They're hoping a Shark will come along for the ride.
Company Information
Video

Posts about Rollin Greens on Shark Tank Blog
Rolling Greens Vegan Millet Tots
Rollin Greens Shark Tank Recap
Ryan and Lindsey enter seeking $500,000 for 10% of their business. They tell the story of how they resurrected the food truck business and the transition to marketing frozen foods. When they feed the Sharks some tots and cauliflower wings, the Sharks are impressed.
2018 sales were $320,000 and nearly doubled in 2019 to $700,000. Unfortunately, the company is running on a deficit. They plan on raising $2 million, but the Sharks caution them to choose the right type of investor. The Sharks are also concerned about the relatively thin 35% margins.
Daniel goes out stating he can't save every clean food company. Lori wanted to partner with Daniel, so when he went out, she quickly followed. Mark and Kevin go out too. Robert says he likes the Cunninghams and the food and offers $500,000 for 20%. They accept.
Rollin Greens Shark Tank Update
The Shark Tank Blog constantly provides updates and follow-ups about entrepreneurs who have appeared on the Shark Tank TV show. This deal never closed with Robert. In the three week aftermath of their initial air date, they had sales that tripled sales for all of 2019 (that's $2.1 million). The company continues to ship frozen products direct to consumers. In March, 2021, they introduced Plant-Based Ground Taco ME'EAT. In September, 2021, the company was voted QVC's Best Plant-Based Food. As of July, 2022, they are in over 5000 stores nationwide including Wegman's, Big Y, Wal Mart and many more. Revenues are $4-$5 million per year